Yoshino that captivates you to pay a visit
Only 90 minutes away from Kyoto,
A town interwoven from history and nature
How to navigate Mount Yoshino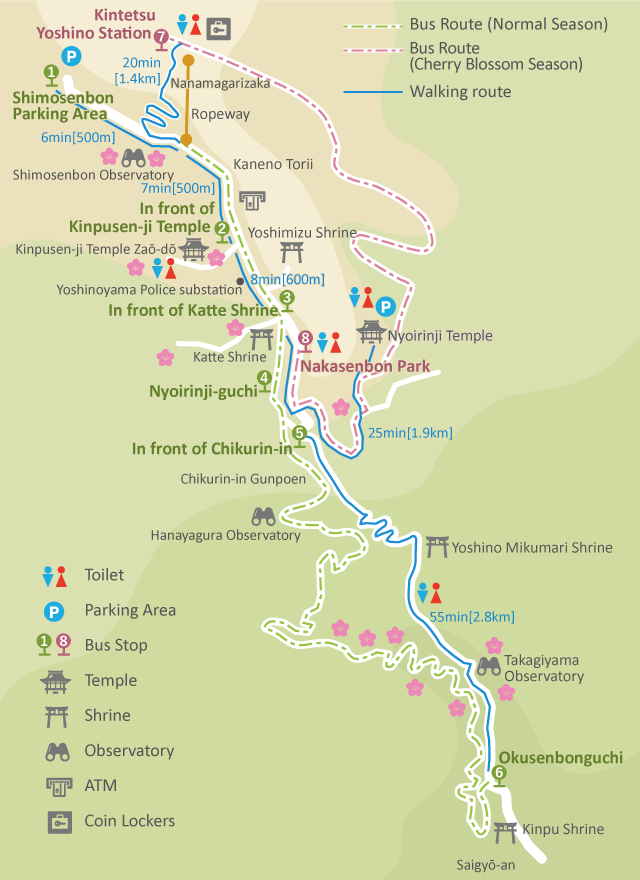 Useful Information for Traveling
Ropeway

A ropeway runs from Kintetsu Yoshino Station to Mount Yoshino. The view of Mount Yoshino seen from the vintage cable car is magnificent.

Bus

If you are going to Okusenbon of Mount Yoshino, there is a bus that runs from Mt. Yoshino (Sanjō) Ropeway Station to Okusenbonguchi.

Parking Area

If you are coming by car, please use the Shimosenbon parking area. Within walking distance are Yoshino's famous spots such as Kinpusenji Temple, Zaōdō, Shimosenbon Observatory and Nanamagarizaka, Kaneno Torii, Niōmon.

Taxi

If you are planning on using a taxi in Yoshino Town, we recommend making prior reservations.
Access in Yoshino
Bus Information
Normal Operation Period
There may be delays due to traffic conditions. Timetable is subject to change during spring season.
Easy enjoyable route for everyone

Whole journey takes 31 minutes by bus

Substantial walking route for enjoying nature

Whole journey takes 130 minutes on foot
Yoshino Jingū Shrine

About 11 minutes

About 41 minutes
(2.7km)

❶ Shimosenbon Parking Area

About 2 minutes

About 13 minutes
(1km)

The center of Yoshino, which is bustling with shops, is only a short walk away from Shimosenbon Parking Area.

❷ In front of Kinpusen-ji Temple

About 3 minutes

About 5 minutes
(600m)

Up to this point, you can easily climb with ordinary shoes.

❸ In front of Katte Shrine

About 1 minutes

About 11 minutes
(500m)

❹ Nyoirinji-guchi

About 1 minutes

About 5 minutes
(300m)

From here onwards, we recommend hiking gears for those going on foot.

❺ In front of Chikurin-in

About 13 minutes

About 55 minutes
(2.8km)

This route by foot may be difficult for the elderly, so taking a bus is recommended.

❻ Okusenbonguchi
Cherry Blossom Season
During the cherry blossom season, extra buses of Nara Kotsu will be in service between Kintetsu Yoshino Station and Nakasenbon.
Nara transit temporary bus
❼ Kintetsu Yoshino Station

About 15 minutes

About 41 minutes

❽ Nakasenbon Park
Yoshino Omine Cable Motor
❺ In front of Chikurin-in

About 15 minutes

About 41 minutes

❻ Okusenbonguchi
Access in Yoshino
Access by Taxi
Traveling by taxi is convenient in Yoshino Town. Please refer to the following phone numbers for reservation.

Nara Kintetsu Taxi

TEL:0467-32-2961

Ooyodo Taxi Co.,Ltd

TEL:0747-52-2049

Sengoku Taxi Co.,Ltd.

TEL:0747-52-2555

Miyataki Taxis

TEL:0746-32-3236