Did you know that there are many attractive cafés in Asuka Village in Nara Prefecture that blend in with the scenery of the nature and historical ruins of Asuka? When you want to have some delicious café food or take a break during sightseeing, these 3 cafés are the best places to visit.
\We are going to introduce these three cafés!/
Café Kotodama
The street leading from the Ishibutai Kofun Tomb to Asuka- dera Temple runs through a charming district lined with old folk houses built in the Edo period. "Café Kotodama" is located on this street, which was called "Market Street" in the past. The owners, Mr. and Mrs. Kato, are both fascinated by the history of Asuka, met in Asuka, and emigrated here after they were married. This café has been in operation for over 10 years and it moved from the west side of Asuka Station to its current location in 2015.
The current store is located in a 200 year-old building that once housed a sake brewery. Old furnishings and miscellaneous goods are placed around the store, where nostalgia and sophisticated beauty coexist. The café has a gallery and souvenir corner which both draw you in to take a closer look.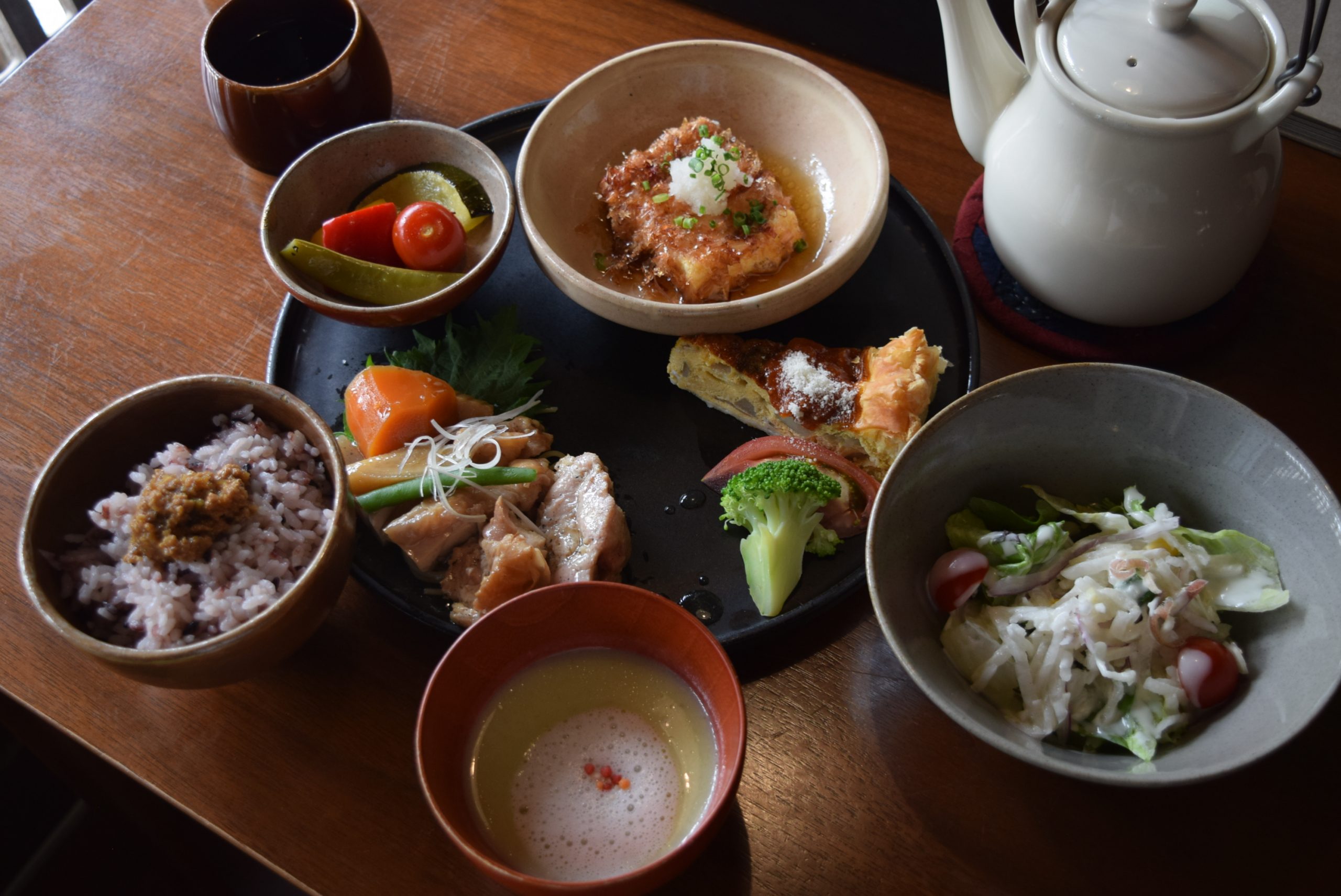 There is only one item on the menu, the Kotodama Lunch (1,650 yen), offered during lunchtime. The quantity of lunches that can be produced per day is limited, so I recommend making a reservation. The menu changes every two weeks to take advantage of the deliciousness of Asuka cuisine and uses seasonal vegetables from the neighborhood.
The Kotodama Lunch on the day of my visit consisted of okra salad, pea potage, colorful vegetable pickles, Kishu Plum Chicken boiled with Japanese pepper, eggplant & zucchini quiche, fried tofu, and black rice topped with miso. The seasoning, which is a good combination of Japanese and Western tastes, never got old up to the very last bite.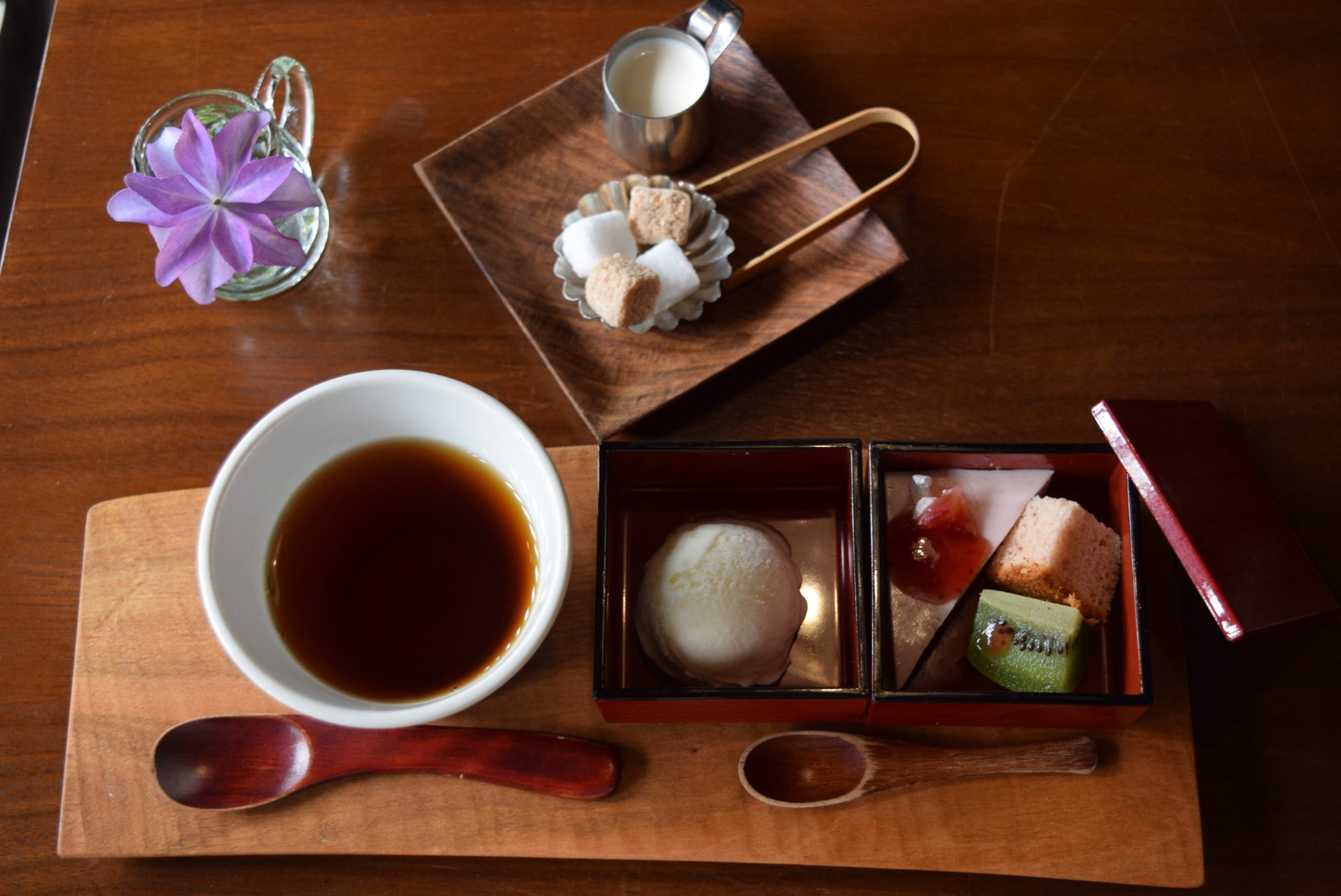 Lunch comes with dessert and a drink. The black tea made in Ise (Mie Prefecture) has a refreshing taste. Ice cream and the mousse of Asuka Ruby, which is a famous type of strawberry grown in Asuka Village, is served in a two-tiered small box. Its delicious taste and appearance can be enjoyed both with your eyes and mouth.
The popular "tea time" menu starts from 2 o'clock and is made up of parfaits and Korean-style shaved ice ("patbingsu") which features seasonal fruits. Takeout is available at the café, so it's a good idea to take the sweets as companions for walking around Asuka.
Mr. and Mrs. Kato were in a long-distance relationship between Tokyo and Okayama. The dating location for the two history lovers was almost always Asuka Village. "There was no café or restaurant at that time," said Mr. Kato. His experience of wishing to have such a pretty café in Asuka Village is a reason for opening Café Kotodama.
Sometimes concerts by well-known musicians are held at Café Kotodama. Why don't you visit here and enjoy a little special time away from everyday life?
Café Kotodama
Address: 1223 Oka, Asuka-mura, Takaichi-gun, Nara Prefecture
TEL: +81-744-54-4010
Business hours: 10:00-17:00 (Saturdays, Sundays, and holidays 10:00-18:00)
(Lunch time 11: 00-14: 00 L.O., Tea time 14:00 to 30 minutes before closing)
Regular holidays: Tuesday and 3rd Wednesday of the month
HP:https://www.cafe-kotodama.com
Cocoro Gohan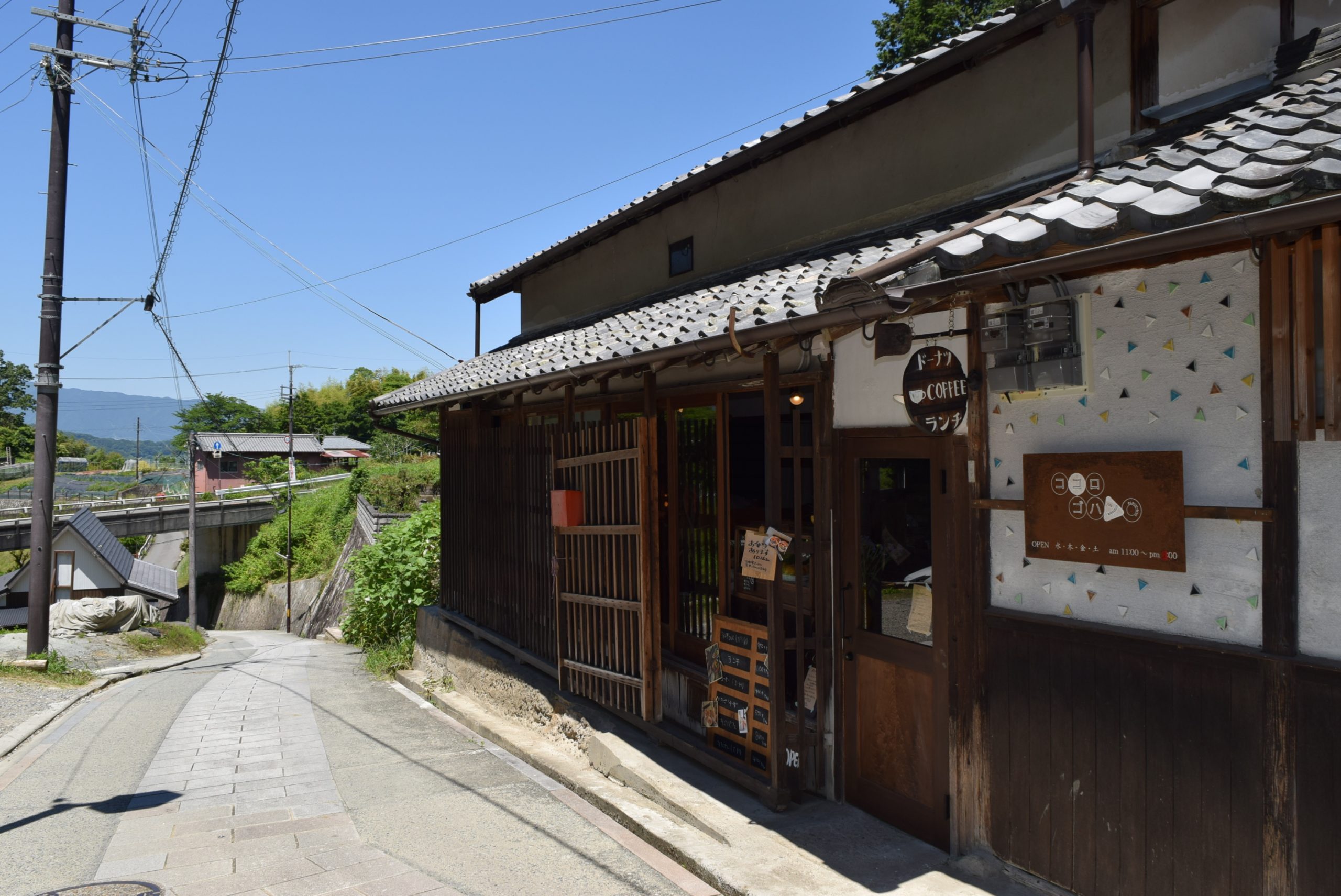 "Cocoro Gohan" is a café which is located a little ways from the steep slope which leads up to Okadera Temple. The signature menu items of this café are dishes of brown rice with vegetables and handmade donuts. Mr. Kawauchi, the store manager who has a warm smile, and Ms. Miyuki, the staff member who dreamed of having a cafe in Asuka Village, work together here.
Cocoro Gohan opened in Asuka Village as a 2nd version of the popular café "Cocoro Mori-no-Cafe" in Kashiba City, Nara Prefecture. When I asked Mr. Kawauchi the reason for opening this café, he said, "The time in Asuka flows calmly and slowly, right? I wanted to offer customers dishes that are full of healthy vegetables in such a nice environment."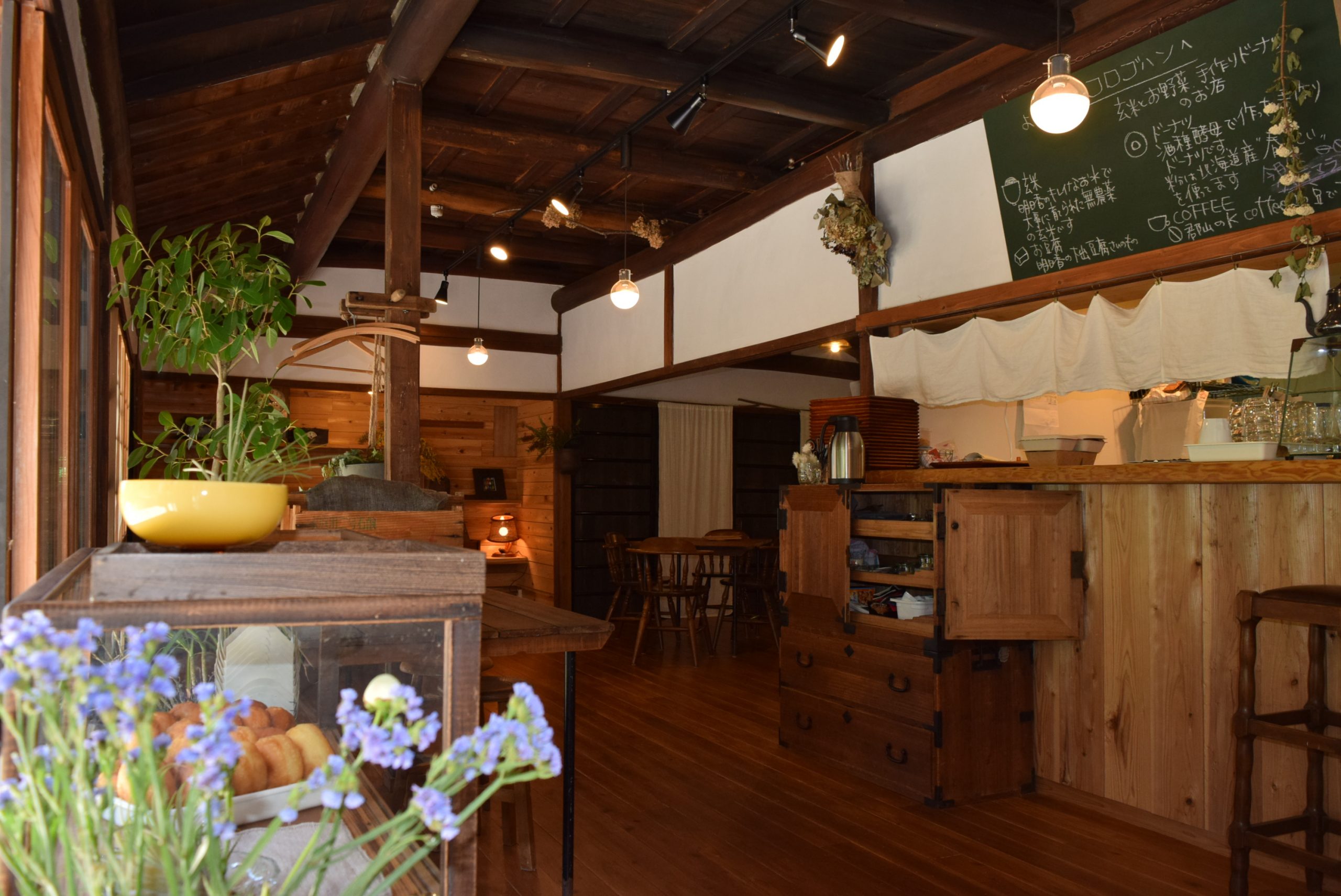 This café has a relaxed atmosphere and you can feel the warmth of wooden construction. The early summer sunshine comes in softly through the frosted glass.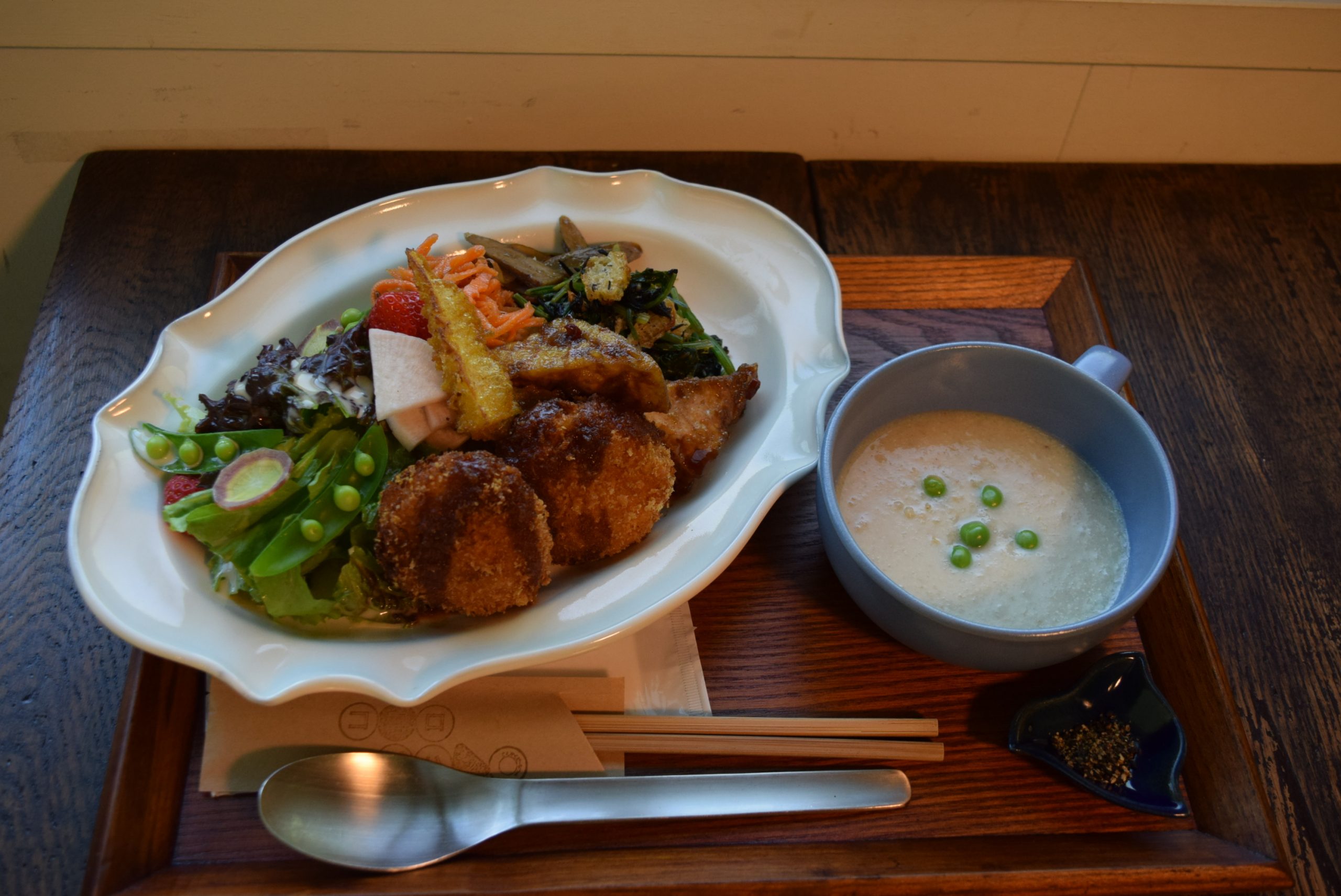 The lunch menu (which changes monthly) named "Cocorogohan" (1,210 yen) is a set dish full of colorful vegetables and seasonal potage. Mr. Kawauchi is particular about ingredients and thus uses pesticide-free brown rice raised in Asuka Village and carefully selected seasonings.
The menu items for this day consisted of onion potage, brown rice, croquette, finely chopped carrot marinated in miso, fried tofu with garlic teriyaki sauce, hijiki seaweed with leaf vegetables marinated with dressing, and stir-fried burdock with Balsamic vinegar. The potage had a pleasant sweetness and texture of onions which made me want to start eating it everyday. The side dishes were well seasoned and tasted sweet, spicy, and sour, which went well with brown rice. It was a very satisfying lunch.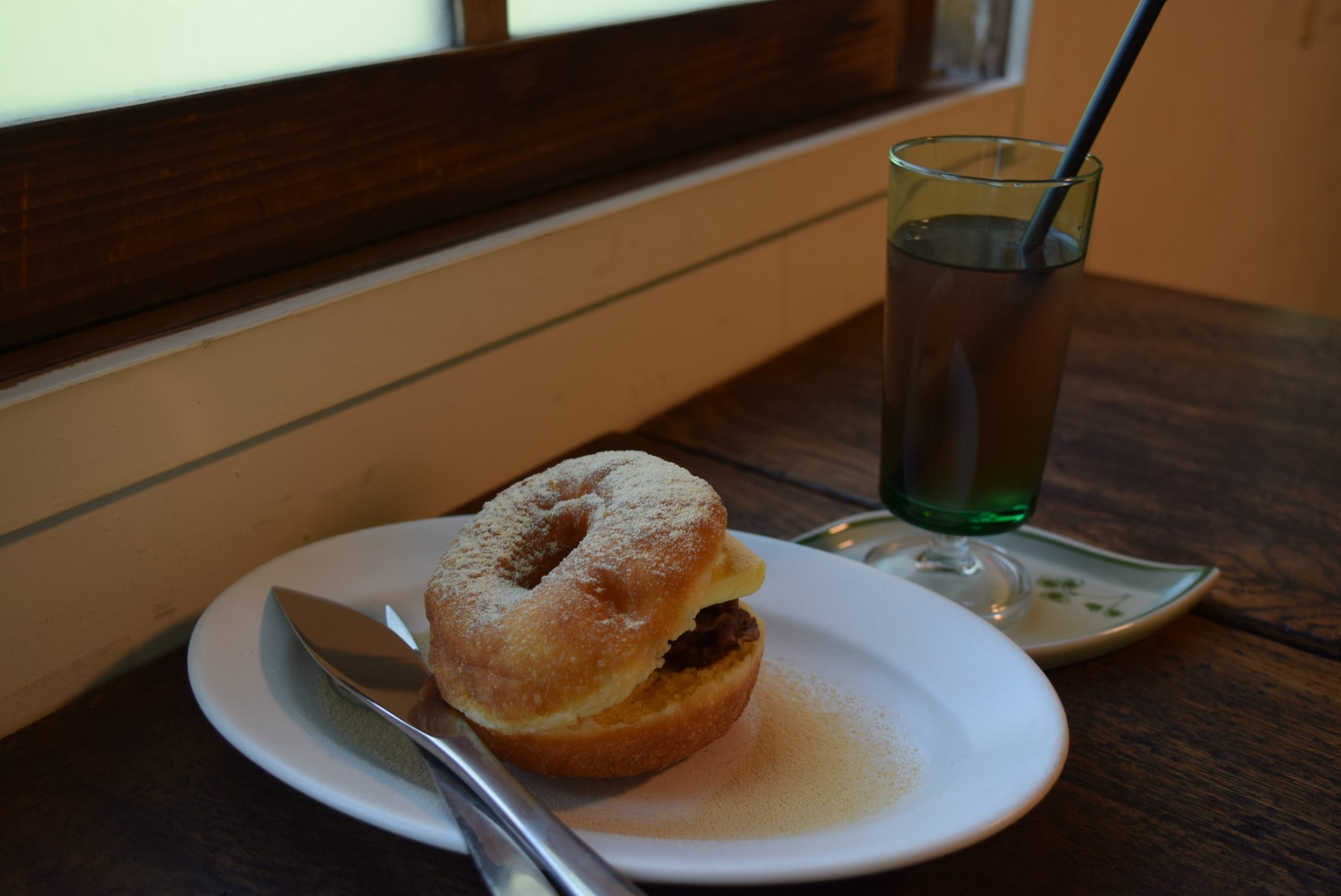 The recommended sweet menu item of this café is the "bean-jam and butter donut" (440 yen), which is a donut sandwich with handmade bean-jam and butter inside. The sweetness of the bean-jam, the saltiness of butter, and the crispy texture of the donut creates great harmony! The sweetness of grape juice (220 yen, when ordered with lunch) was pleasant.
At the end of the interview, I asked Mr. Kawauchi about what he thinks is the most important thing in operating the café. He told me, "I think food is the most important thing for humans. To offer customers dishes with few additives is what I want to stick to."
Donuts and the lunch menu can be ordered for take out (though it is better to make a reservation). Why don't you get a lunch box full of vegetables (1,026 yen) and have a picnic under the blue sky of Asuka Village?
Cocoro Gohan
Address: 968-1 Oka, Asuka-mura, Takaichi-gun, Nara Prefecture
TEL: +81-90-3715-5578
Business hours: 11:00-16: 00 (L.O.15:30)
Regular holidays: Sunday, Monday, Tuesday
SNS:
https://www.facebook.com/cocorogohann
https://www.instagram.com/cocorogohann

Matsuyama Cafe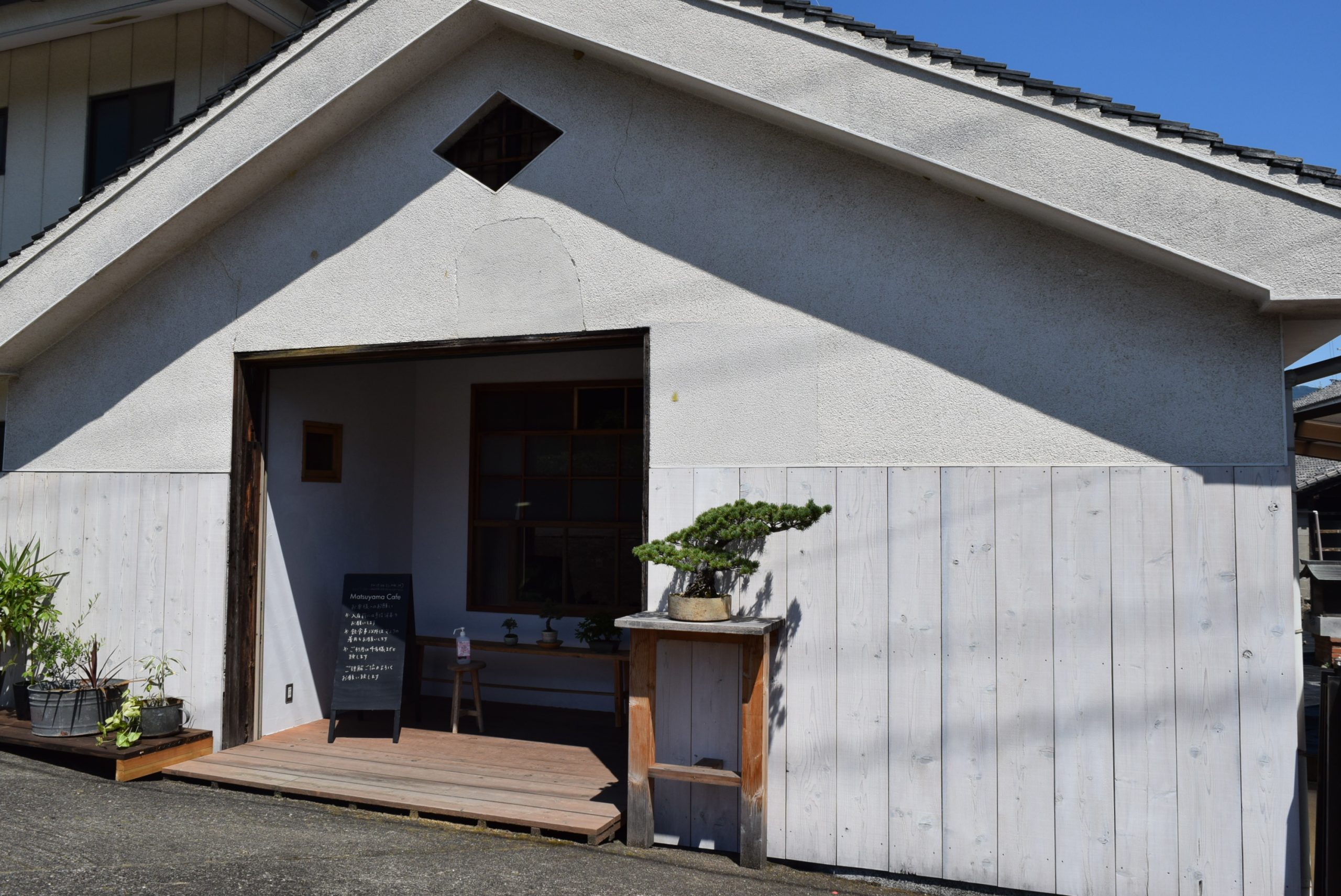 "Matsuyama Cafe" is a café that looks like a hideaway and is about a 1-minute walk away from Asuka Station. The pine bonsai placed in front of the café is the sign that the cafe is open. It is a comfortable space with a high ceiling and a warm wooden interior. It is a pretty café now, but it was surprising to hear that the building was originally an 80-year-old warehouse.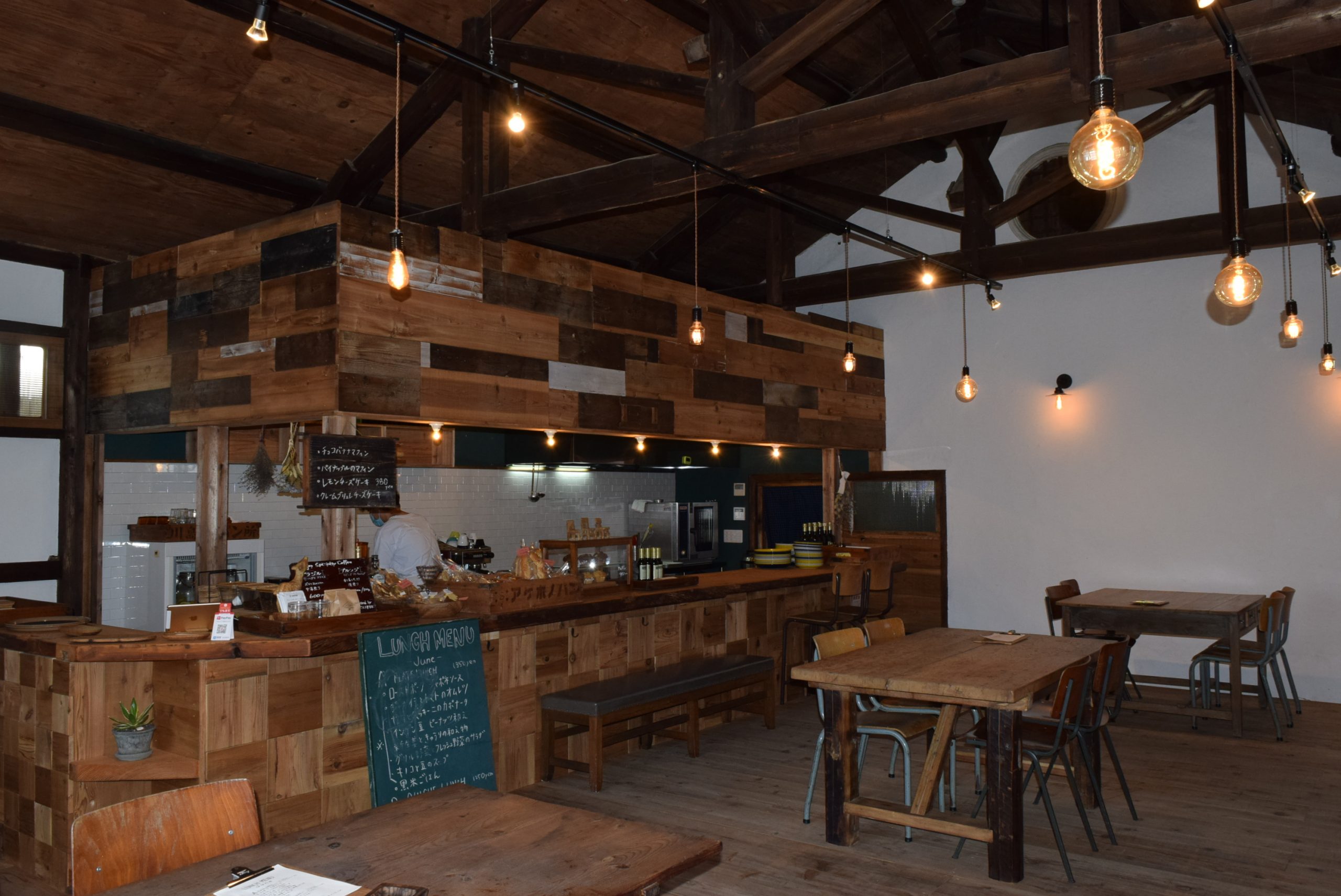 "At first, the place was dirty and I didn't think I could open a café here," said the store manager, Mr. Matsumoto. He worked at a cafe while continuing to work on wood carving which he majored in at university. He is originally from Asuka Village, and dreamt about having his own café in Asuka someday. However, he could not find a property that was suitable, so he gave up at one point.
After some time had passed, he found this place by chance. When Mr. Matsumoto saw the tattered warehouse for the first time, he said that he thought "Oh…it would be terribly hard to make this place a café." However, he made up his mind to go with this warehouse as he liked it's spaciousness and thought that he might not get another chance. He renovated the building almost all by himself and made new furniture and interior decorations through recycling older materials. There are also many of Mr. Matsumoto's wood carvings on display.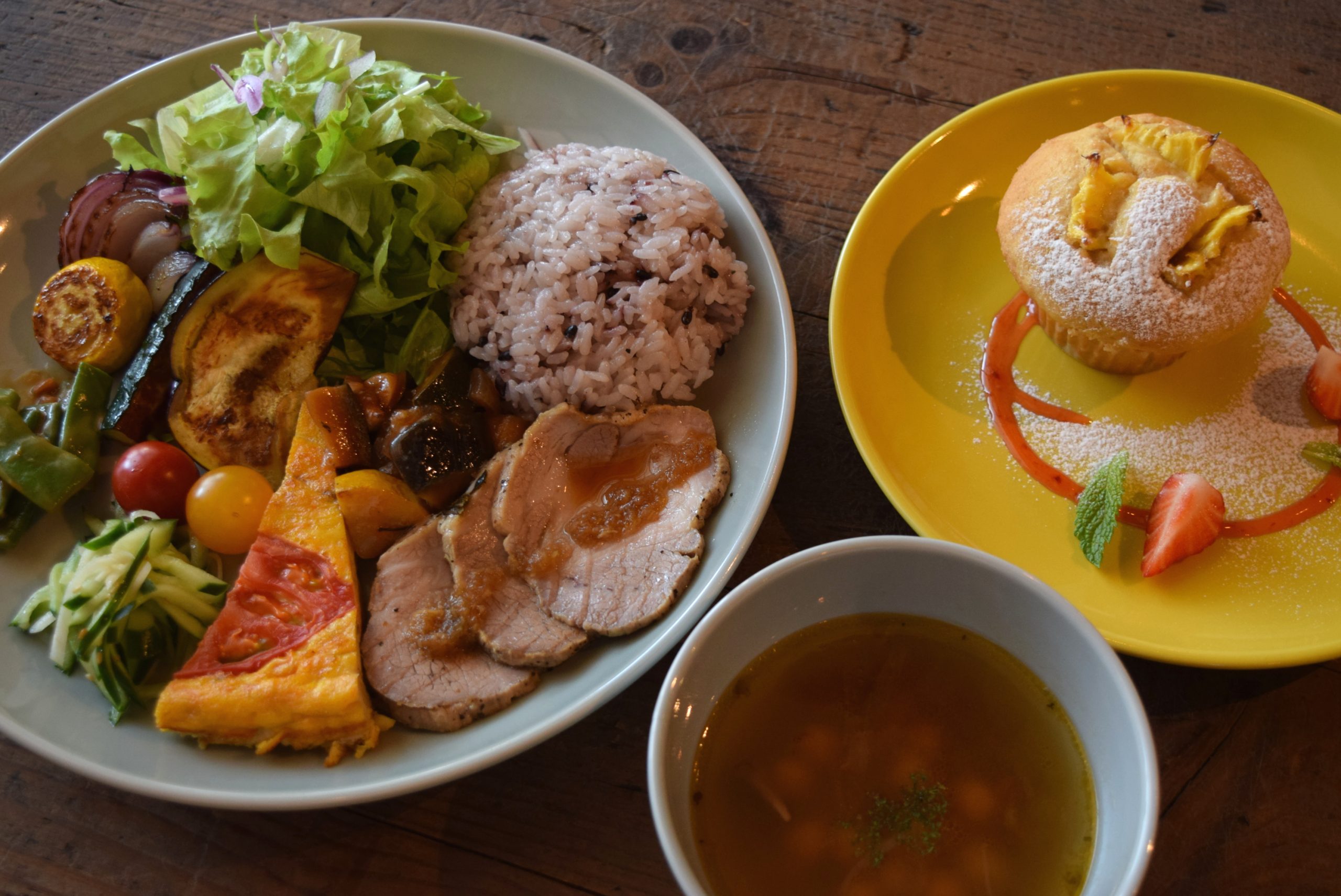 There are two types of lunch (1,350 yen, comes with one drink), and the menu changes monthly. The menu for the day was mushroom and bean soup, black rice, roast pork, potato and tomato omelet, eggplant and zucchini caponata, green beans garnished with peanuts, ginger and cucumber salad, and grilled vegetable salad.
The roast pork was juicy and tender, and the salad of selected ingredients which was seasoned with olive oil and salt were fresh and possessed a nutritious flavor. The pineapple muffin (380 yen) that I had after the meal was large and satisfying. It went well with the refreshing bitter taste of a latte.
"I think I've created not a café but a "place. Everyone visits here for a variety of purposes, but it's okay for me if they enjoy the time here in their own ways. I hope that my café can become part of my neighbors' lives."
The former warehouse, reborn as the stylish Matsuyama Café, was a wonderful place where I predict something new and special might happen with the help of the visitors.
Matsuyama Cafe
Address: 2-1-1 Koshi, Asuka-mura, Takaichi-gun, Nara Prefecture
TEL: +81-744-35-1003
Business hours: 11:00 ~ 18:00
Regular holidays: Wednesday, 2nd and 3rd Tuesday of the month
HP:https://matsuyamacafe.jp
* Business hours and price are subject to change. Please confirm directly with each café before you visit.