Mt. Yoshino in Yoshino Town, Nara Prefecture, is known as one of Japan's three major cherry blossom viewing spots. The area known as "Nakasenbon" in Mt. Yoshino, located about 40 minutes up the mountain from Kintetsu Yoshino Station, is where the "Shizuka-Tei" restaurant is located. This location is also next to the Katte Shrine where Shizuka Gozen (Lady Shizuka) is said to have performed a dance long ago.

Shizuka-Tei is operated by a friendly landlady along with her husband and is very popular both among tourists and local residents. In this article, I will look into the reason for its popularity, which has persisted for the 70 years since its establishment in 1948.
One of the charms of Shizuka-Tei is the landlady herself
I interviewed Ms. Mika Hayashi, the granddaughter of the founder of Shizuka-Tei. She is an attractive woman who speaks cheerfully and has a bright smile. I assume that there must be many repeat customers who come back to chat with her.
According to her, the vitality and attractiveness of landladies such as Ms. Hayashi's mother and grandmother is part of the reason that Shizuka-Tei has flourished.
Ms. Hayashi's grandmother, the first landlady, managed to raise three children and obtain the funds necessary for opening the restaurant all by herself after her husband went off to World War II. She then opened Shizuka-Tei only 3 years after the conclusion of the war.
After several years, she met a young lady and instinctively thought, "She has a talent for business! By all means be my son's bride!" The young lady was the one who became the second landlady and gave birth to Ms. Hayashi after a few years. She was always standing in front of the restaurant to talk to people and advertise the store. She had many fans and some regulars even said, "I don't care about the taste of the food, I'm coming to Shizuka-Tei to see the landlady." Shizuka-Tei has many repeat customers even now, but Ms. Hayashi recalls that there were more when her mother was the landlady.
However, Ms. Hayashi's mother suddenly passed away due to illness, so Ms. Hayashi, who was only a 20-year-old college student, became the landlady. Because of sadness, loss of her mother's fans, and poor experience as a landlady, she says that there were days when she didn't want to work. However, she overcame these challenges in two years and since then has worked very hard with her husband, who is in charge of cooking.
A new menu and a taste that suits the times
Up until Ms. Hayashi took over managing the restaurant, there were many yamabushi (people who practice the Japanese mountainous religion of Shugendo). However, as the times have changed, the number of yamabushi has decreased while tourist numbers have increased. Therefore, Ms. Hayashi and her husband decided to create some new menu items with the theme of Yoshino in mind which tourists might like.
While preserving important things such as the taste of homemade miso and soup stock which has been passed down from the founder, the Hayashis created their signature dish known as the "Kudzu Udon Noodle Set Meal." It is a set meal that comes with noodles that are made from kudzu starch (a Yoshino regional specialty), homemade persimmon leaf sushi ("kaki-no-ha-zushi"), and some other small dishes.
Unlike ordinary udon noodles, kudzu udon noodles are thin and smooth, making them very easy to eat. Persimmon leaf sushi, which consists of sour sushi rice topped with a slice of mackerel and wrapped in a persimmon leaf, also tastes good. In fact, I couldn't stop eating both the noodles and sushi. This meal looks very traditional, but there was no menu that used kudzu udon noodles or a western-style menu (as there is now) in the past.
The Chilled Kudzu Udon Noodle Set Meal is offered in the summer. When kudzu udon noodles are chilled, the sensation of the noodles going down the throat feels better than when they are warm. You can also enjoy the taste of the meal alongside a comfortable breeze if you sit on a porch seat.
Shizuka-Tei offers other seasonal menu options such as rice cooked with delicious ingredients gathered from the mountains in the fall, and a hot pot of wild game meat in the winter.
"Carbonara with Kudzu Udon Noodle" is the menu item that Ms. Hayashi created for women and westerners as she thought they may like pasta. Kudzu noodles are soft, so those who are familiar with al dente pasta might be a bit surprised when trying it. It is very hard to eat with chopsticks, so I recommend using a fork.

Enjoy the taste of Shizuka-Tei at home
Due to the ongoing pandemic of COVID‑19 in 2020, we are encouraged not to go out frequently. The number of tourists who visit Mt. Yoshino is surprisingly small compared to the average year, and nearly all food-related events have been cancelled. To cope with this situation, Ms. Hayashi is focusing on online sales. The main products of the online shop are persimmon leaf sushi and "miso cream cheese," which took a year to develop.
This miso cream cheese was born after repeated trial and error with the desire to, as Ms Hayashi puts it, "Create a product that makes the best use of my grandmother's miso and can last a long time". The cream cheese is pickled in homemade miso for 1.5 months and then the flavor of cherry blossom or yuzu is added. Ms. Hayashi told me that these tastes are perfect for both white wine and sake, so I decided to try both flavors at my home.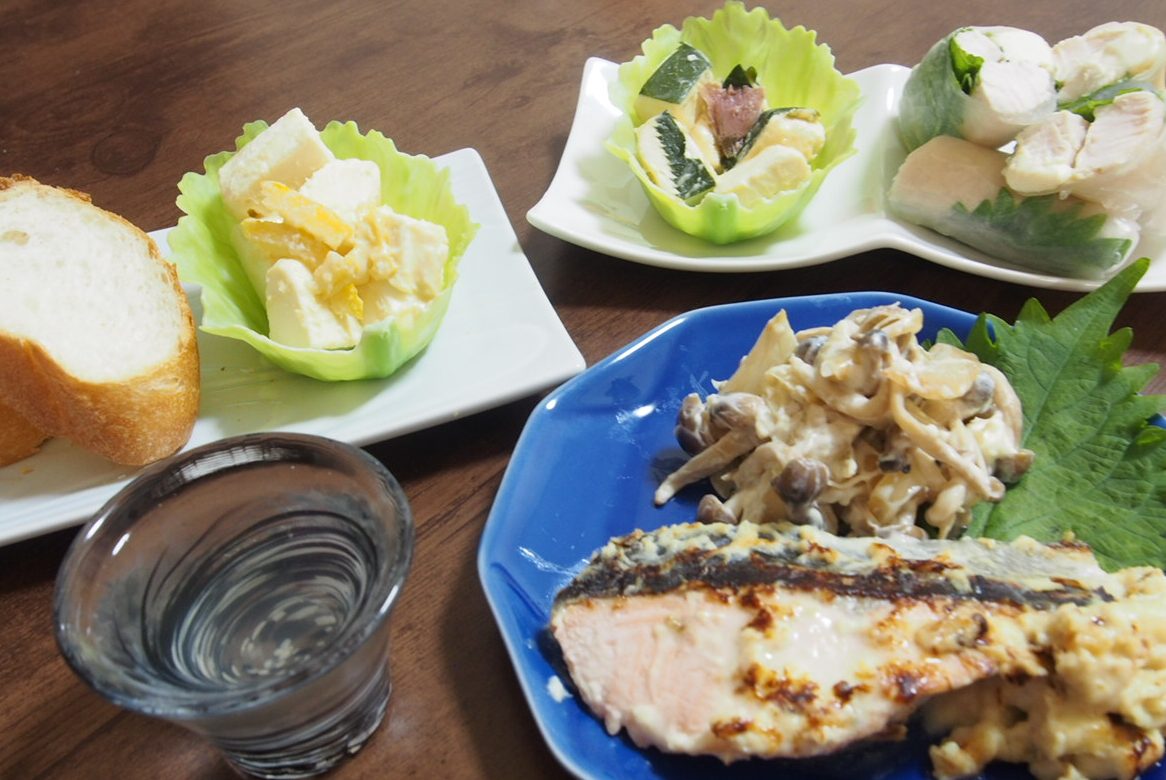 I cooked three different dishes using plenty of cream cheese. For the cherry blossom flavor, I followed Ms. Hayashi's recommendation and combined the cheese with chicken fillet and perilla to make summer rolls. For the yuzu flavored cream cheese, I decided to use it to marinate some baked salmon. I also used the yuzu cream cheese as dressing on fried onions and shimeji mushrooms.
When digging into my meal, the first thing I did was spread both cream cheese flavors on a baguette to compare the tastes. As soon as I spread the yuzu flavored cheese, I could smell the fresh scent of citrus. On the other hand, the cherry blossom flavored cheese did not have much scent, but I could taste the sweetness of miso in it more than I could in the yuzu flavored one. They also both go very well with white wine!
The next thing I tried was the baked salmon, which was marinated in yuzu miso cream cheese for about 30 minutes. When it was heated, I could taste the flavor of miso more than the yuzu. Together with the salmon, I baked the surplus cream cheese marinade and used it as a sauce. As the cheese marinade gradually cooled with time, it returned to a more solid form. Unlike before, this re-solidified cheese had a savory flavor and it also tasted good! The onions and shimeji mushrooms sauté with yuzu miso cream cheese, which was completed in about 5 minutes, made for a good side dish.
I also had some summer rolls but was disappointed to find that I could not taste much miso or cherry blossom…maybe the amount of cheese was too small. I will cook summer rolls again and some other dishes that make the best use of the cherry blossom miso cream cheese soon in the future.
After trying miso cream cheese, I thought that it was delicious to eat on its own, but if you combine it with different things, there are an infinite amount of ways to enjoy it. I am sure that if you partake of this cream cheese with wine and sake at home, you can enjoy passing the time without needing to go anywhere.
Shizuka-Tei's future
"Even if the spread of COVID-19 infections decreases, tourists may not return in the same numbers as before before…So, I will do my best to treat those who still visit Shizuka-Tei and support us with great hospitality. I want to make this restaurant a place that is supported and loved by everyone, even if it's my son's or grandchild's generation," says Ms. Hayashi.
Even if the situation is difficult, I felt that Shizuka-Tei would continue for another 100 or 200 years if this tradition of attractiveness and power in landladies is passed down from generation to generation. As one of Shizuka-Tei's fans, I will continue to support you!
Shizuka-Tei(静亭)
Adress:952 Yoshinoyama, Yoshino-cho, Yoshino-gun, Nara
TEL:+81-746-32-3157
Business hours: 9:00 to 18:00 *The cherry blossom season hours are from 8:00 to 20:00
Holiday: Irregular
HP:http://www.yosino-sizukatei.sakura.ne.jp/
You can purchase the products of Shizuka-Tei from here!
* Delivery available only within Japan.