When you visit Yoshino, we want you to visit these interesting local shops. Let us introduce Yoshino's six attractive cafes and sweets shops in 2 parts.
As a follow-up to the first part, we are going to introduce a log-cabin-style cafe where you can enjoy an excellent view of Mt. Yoshino, a popular cafe surrounded by nature in the neighboring town of Oyodo, and a cake shop that is famous for Mont Blanc (dessert) that sees huge lines of customers.
The first part of the article is here:
\In the second part, we are going to introduce these three shops./
The log-cabin-style cafe, Hinata-bokko
Hinata-bokko is a popular cafe with a retro-looking, cute design and a natural, warm atmosphere. The menu, featuring a list of delicious options, can be found near the entrance.
There are beautiful views of Mt. Yoshino from the counter seats near the windows that would make for a great location for some photos. (You can ask staff to open the windows.)
This time I ordered this popular menu in a place where time passes slowly.
If you are tired from walking, you can take a rest with the Hitoyasumi set (*"Hitoyasumi" means "little break" in Japanese). Mochi cakes made of kudzu powder that smells of kinako (roasted soybean flour). It has a chewy texture and it is slightly sweet! Makes for a great desert! The cherry blossom ice cream with cherry blossom flavor was very also delicious.
The Mochi cakes (made of kudzu powder) that I just ate are also available for sale. These are available in Ryokan Kato (a traditional Japanese inn) located in front of the cafe. These mochi make for wonderful presents and souvenirs.
About Lunch
There are a number of different lunch options such as pizza and pasta. The Jiyasai lunch set (lunch composed of fresh local vegetables) is a very popular and healthy option that requires a reservation prior to arrival. Why don't you give this set a try for lunch?
You can enjoy seasonal views of Mt. Yoshino in comfort as you rest in the cafe.
Hinata-bokko
Address: 3056 Yoshinoyama, Yoshino-cho, Yoshino-gun, Nara Prefecture
TEL: +81-746-32-3177
Business hours: 9:00-17:00
Regular holiday: Tuesday
Reservation: Possible (Some lunch menu requires reservation)
Homepage: http://www.kato-yoshino.jp/
MARUIKE Cafe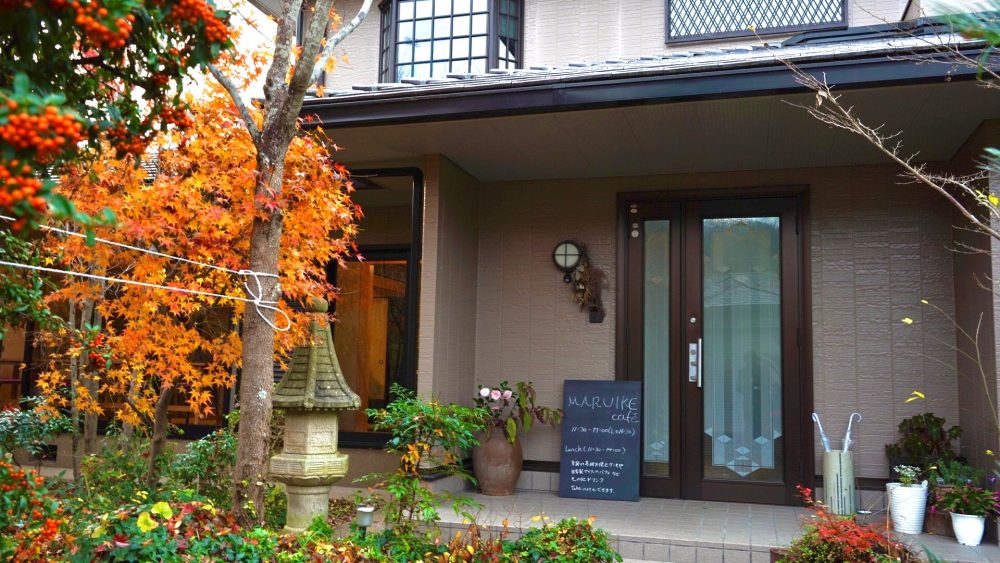 Wow! In a place like this?
MARUIKE Cafe is a popular and hidden cafe that is surrounded by nature. The cafe is actually a renovated house that you can relax in, just as you would in your own home! Seasonal flowers welcome you in the garden.
A highly relaxing space where you can take it easy, you can eat while looking at the garden from the counter seats.
This time I visited on an autumn day when lots of seasonal cakes were available. All the sweets featured different tastes of the season and my heart longed to try them all.
I decided to order this cake after much consideration:
This mont blanc is freshly made after an order is placed. This was my first time experiencing such a stylish Mont Blanc plate. I wanted to eat it as soon as possible but its beautiful appearance compelled me to take many pictures of it first.
This big Mont Blanc is fluffy, moderately sweet, and features a soft texture. At first I thought that it was pretty big, but I still ended up eating it quickly.
The Gateau chocolat with a hint of liquor is also recommended!
Whoever likes parfait will like this! The "Big parfait" is also delicious. You can enjoy the seasonal flavors.
About Lunch
The MARUIKE lunch is unique and is limited in quantity. You can enjoy eating a healthy, colorful lunch with many local vegetables and fruits. Because the lunch menu changes every month, you certainly will want to return again and again to try each new offering.
Immersed in a beautiful green village in which Japanese tea is grown, this is a wonderful cafe where you can eat delicious food in comfort.
MARUIKE Cafe
Address: 1605 Nakamashi, Oyodo-cho, Yoshino-gun, Nara Prefecture
TEL: +81-746-32-5883
Business hours: 11:30-17:00 (L.O.16:30) *Lunch until 14:00
Regular holiday: Monday-Wednesday
Reservation: Possible (reservation recommended)
Homepage: https://maruike-cafe.com/
La Peche
La Peche is a cake shop that often sees long lines of customers.
Mont Blanc is a seasonal menu option here and very popular. Many cake connoisseurs come to this famous shop from all over Japan. I am also a big fan of this shop. I have visited this shop on a regular basis for several years.
This time I visited the shop at about 11 a.m. on a weekday. A lot of people were already lined up when I arrived. When Mont Blanc is on the menu, many customers arrive at the shop before it opens to secure one. Sometimes you cannot buy Mont Blanc without a reservation. (If possible, we recommend making a reservation by phone).
You will be happy while looking at cute cakes with a gentle sweet scent in the shop. It is difficult to choose as every cake looks delicious. This time I chose the most popular cake.
This is a popular cake that is only available between the beginning of September to around May. Mont Blanc is displayed as a sample in the showcase. It is painstakingly prepared one by one after orders are placed. As there is no eating space available in the shop, I took my order outside and ate it right away.
The chestnut's flavor spreads throughout the mouth after every bite. Such a rich and moist Mont Blanc! It's very delicious! Pastry chefs blend special chestnuts. The fresh cream inside is sugar-free. The cake base is a crispy meringue. This Mont Blanc brings out the full flavor of the ingredients used and tastes excellent. We want you to go to Yoshino and try this excellent cake.
This shop's bread is also popular enough to sell out quickly, so if you also want to buy bread, please visit the shop as early as possible. This is a wonderful, one-of-a-kind cake shop that we want you to visit when you come to Yoshino.
La Peche
Address: 190-1 Nino, Oyodo-cho, Yoshino-gun, Nara Prefecture
TEL: +81-746-32-2484
Business hours: 9:30-18:30
Regular holiday: Monday and Tuesday (if Tuesday is a national holiday, Wednesday)
Reservation: Possible *Reservation is recommended for Mont Blanc