I love Nara, and when I can't go to Nara, I use things made in Nara.
Nara pickles, Miwa somen noodles, Miyama soba, kuromen, Tenkawa udon, kakinohazushi (persimmon leaf-wraped sushi), thick fried tofu from the Hayashi Tofu shop, soy milk caramel almonds, my favorite Gojo persimmon, and etc.
Sake from Nara Prefecture, such as Yatagarasu, Hana-tomoe, Mimuro-sugi, Kaze-no-mori, and more are also so delicious and something I would like to discuss on another occasion.
I keep a stockpile of Nara ingredients and sake, and I eat and drink from it regularly. Having a feeling of love for something is important and I feel like I actually feel better when I use something that has been made in my favorite area.
There is something other than food or sake that I, a Nara addict, am using: "Nara cosmetics!" I highly recommend Nara cosmetics, not only because of my personal love for Nara, but also as an esthetician with 20 years of experience.
By the way, did you know that Nara is the birthplace of Chinese medicine in Japan?
In Nara, there are many products that use Chinese herbs, and because it is also an area with an abundance of beautiful water, there are many wonderful cosmetics and beauty goods from this region as well. Among them, the most famous product is Yamato Toki (angelicae radix).
"Toki" is a plant belonging to the Umbelliferae family, which have been used by people in Nara since ancient times for medicine (roots) and food (leaves).
Due to its celery-like taste, it has recently come to be used as an herb for cooking.
The cosmetics which use Yamato Toki are amazing.
My recommendation is "Arai Powder," which is a green papaya enzyme facial cleanser made from Yamato Toki and rice bran. After washing with it, I realized that my skin became smooth and white after one use. That is really amazing.
When I first tried a sample of it on my hand, I was so impressed that I bought it immediately. Upon checking my hand the next day, I was surprised to find that it was still smooth. From that day forward I decided to use it on a regular basis.
Toki leaves are rich in vitamin E, which has an antioxidant effect, and rice bran contains amino acids, vitamins B and E, and ceramide (which has a high moisturizing effect).
By the way, the owner of Arai Powder is a woman born in Nara who loves her prefecture. She is familiar with Chinese medicine and as a result of repeated research, she developed this product using carefully selected materials that are particular to the land of Nara.
In addition to this, she also sells "hinoki essential oil" made from Yoshino cypress and "hinoki water" that can be used for deodorizing.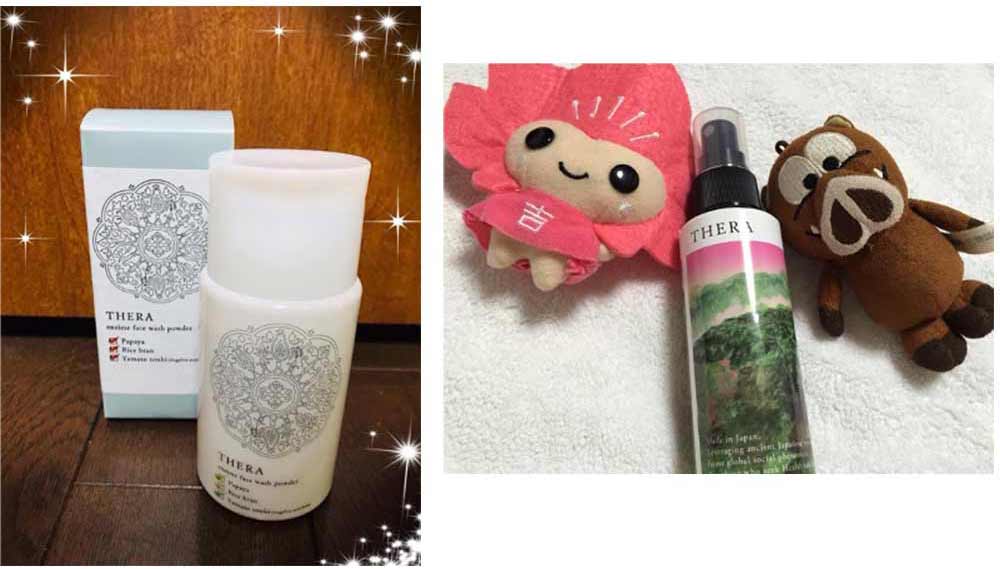 You can find these products In Nara Prefecture at Nara Hotel, Hotel Fujita, Tokyu Hands Nara Store, Sonimura Farm Garden, and other locations.
HP: https://www.alhambrainc.com/
The following products that I will introduce are things that have a great impact and are sold at reasonable prices, making them suitable for nice souvenirs.
The first brand I will introduce is Yamato Cosmetics.
This brand is the result of Nara Prefecture and Kinki University conducting research to produce cosmetics made with beauty ingredients extracted from the agricultural products of Nara. One interesting product of theirs is soap with persimmon leaf powder, rapeseed oil and black rice. I use it to wash my body, and I love it because it is moisturizing and foams well.
There is also a beauty essence tincture that uses "Gorogoro Water" from Tenkawa Village in Nara.
Gorogoro water is natural water that comes from springs found at an altitude of 850m at the foot of Mt. Omine. It is rich in calcium and other natural minerals, and has been selected as one of Japan's 100 most famous water sources. Many people from all over come to Tenkawa for its special water.
This excellent moisturizing beauty essence uses Gorogoro Water as a base for other beauty ingredients including persimmon leaves, lotus root, and yuzu. If you apply it several times, your skin will be less likely to dry out, even in the winter time.
I think the masterpiece of Yamato Cosmetics is a face mask containing fermented rice liquid. This mask adds extracts of persimmon leaf, lotus, and yuzu with fermented rice, which is produced in an long-established sake brewery located at the foot of Mt. Omine.
The reason I call this product a masterpiece is because… it gives you a Buddha-like look!
What a great impact!
Generally, these kinds of "gag" masks dry out in a short amount of time, but this mask is full of beautifying ingredients and is very moisturizing.
These Nara-like souvenirs are cute, practical, and pleasing.
The cosmetics of Yamato Cosmetics do not contain any fragrances, colors, mineral oils, parabens, and etc. It also does not contain any animal ingredients. This is just another reason why these products are very suitable as gifts.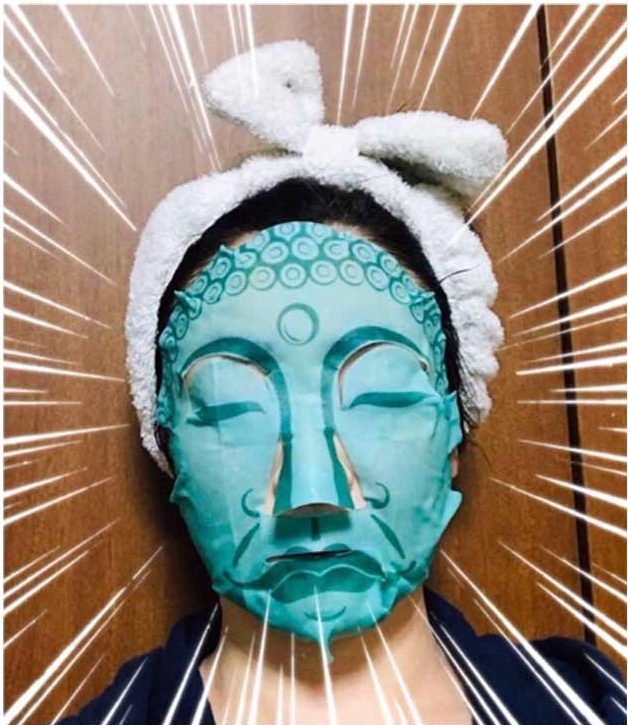 When I apply this mask, this is what I look like.
Don't you want to look like this too?
You can purchase it at a shop at JR Nara Station, Tokyu Hands Nara store, Fukusendo on the Higashimuki shopping street, a shop at Nara Park Bus Terminal, and other locations.
By the way, you can find the real thing in this photo at Fukusendo.
To tell the truth, I am the model who is demonstrating the product in this photo!
The next brand I'd like to introduce is "Yamato-mon".
Their main products are soap and lotion which use Japanese and Chinese herbal medicine extract from Nara.
There are two types of lotions: "Yamato Toki" and "Yoshino Kudzu." "Yamato Toki" is very moisturizing and rich in hyaluronic acid and collagen components.
In addition to hyaluronic acid and collagen, "Yoshino Kudzu" contains peony extract and is more moisturizing than "Yamato Toki."
I'm personally using "Yamato Toki" lotion and I like it because of its pleasant scent of herbs and efficiency in softening and moisturizing my skin.
"Yamato-mon" has four types of soap, Toki, phellodendron bark, peony, and Yoshino Kudzu, so it may be good to choose which one to use according to your skin type or the season.
Toki and Yoshino Kudzu soaps are both good at moisturizing, and peony soap seems to have a good scent. Phellodendron bark soap contains cypress essential oil so it has a bactericidal effect.
I have only used Toki and Yoshino Kudzu, but I would definitely like to use the other two sometime as well.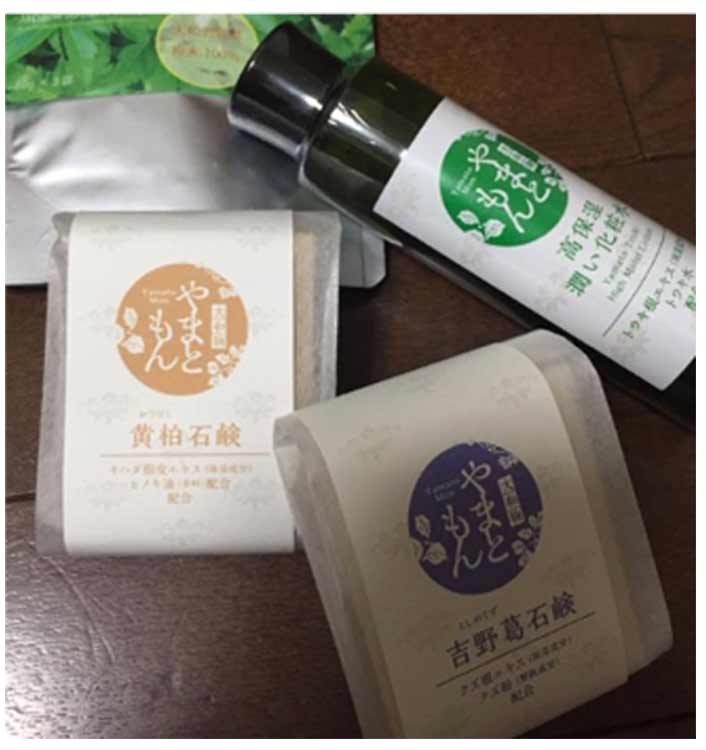 They also sell various types of bath salts.
Many of them use Chinese herbs that are very good at warming your body and keeping it warm even after you leave the bath.
http://vanbell.shop-pro.jp/?mode=cate&cbid=2247295&csid=0
Lastly, I would like to recommend Japanese essential oils that are "Nara-like".
"Tenkawa Aroma," based in Tenkawa Village, sells various types of essential oils.
With these oils, you can feel like you are still in the forest of Yoshino even after you return to your hometown.
It is also a good idea to dilute your favorite scented essential oil with some other base oil and try a foot massage. It will be good for healing and moisturizing at the same time.
https://www.soma-sense.com/