Hi, I'm Gao Li, an international student studying at Nara Women's University.
I am also an internship student for the town of Yoshino, Nara Prefecture, which is famous for its very old history and rich forest.
I had a valuable experience in learning to make wooden chopsticks and coasters at a sawmill in Yoshino, so I would like to tell you about it in this article.
The first thing that I saw when I entered the sawmill were the various types of wood (mainly cedar and cypress) stacked all around the sawmill.
In the quiet and peaceful town of Yoshino, sawmill craftsmen are working hard every day to make timber products.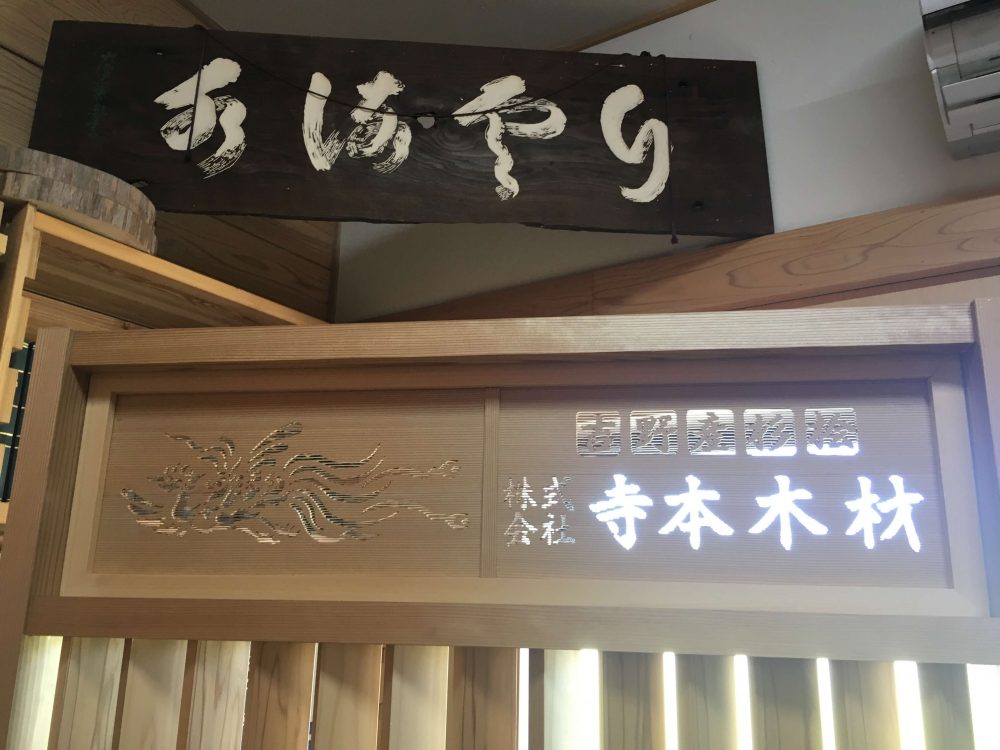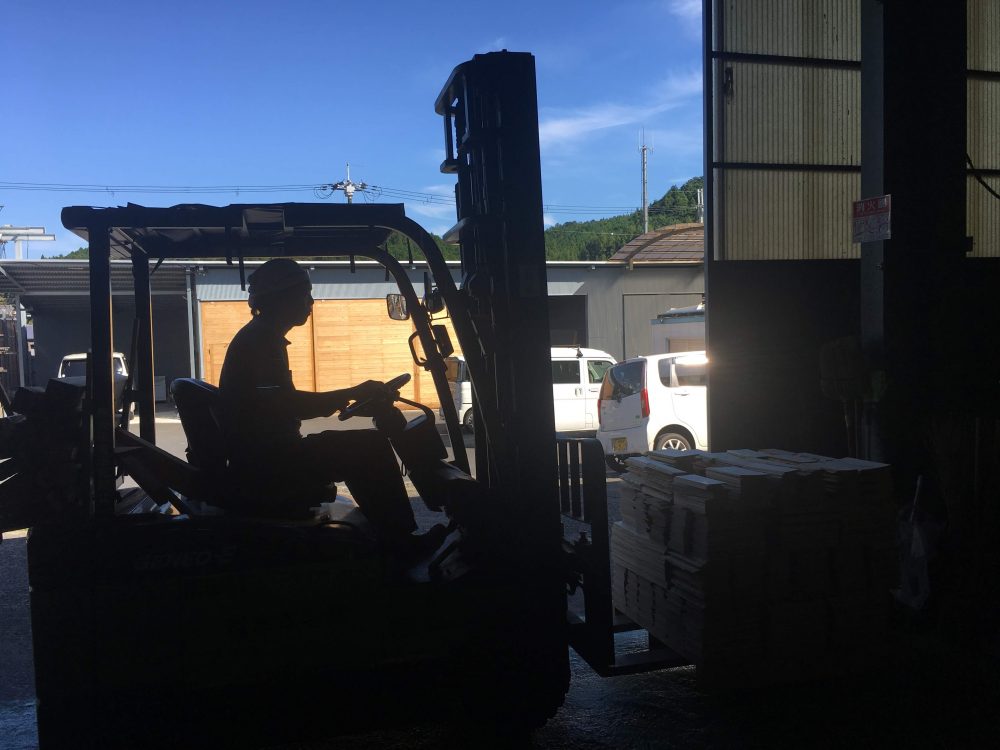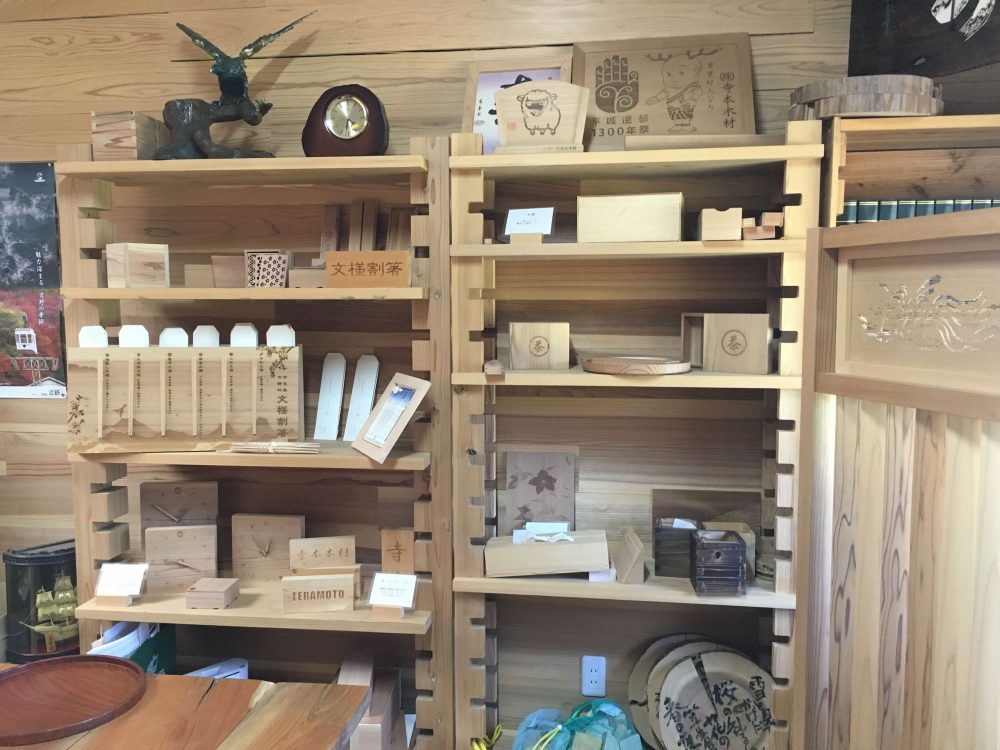 Why is Yoshino cedar famous as a brand of timber?
First of all, Yoshino cedar has uniform and beautiful inner ring layers, a pretty color, and a good, woody scent.
Second, it is denser than wood from other regions so it is stronger as a raw material.
The sawing process is simple but very interesting.
I would like to introduce the general process below.
The first step is to remove the rough bark on the surface of the tree, followed by cutting the logs into thick boards with a machine saw.
In the second step, the craftsmen carefully cut out the uneven parts of thick boards.
Finally, they cut the smoothed thick wooden board into smaller rectangular boards with a machine saw.
The rectangular wooden boards are used as a material for making coasters in Teramoto Mokuzai, the sawmill that I visited. The wooden boards are cut into various shapes and sizes, depending on the products.
After initial cutting, wood materials are then processed for various purposes.
Steps to make a coaster
1. Put a thin, small wooden board into the machine and fix it in place
Small patterns are printed on the board by a laser and then cut.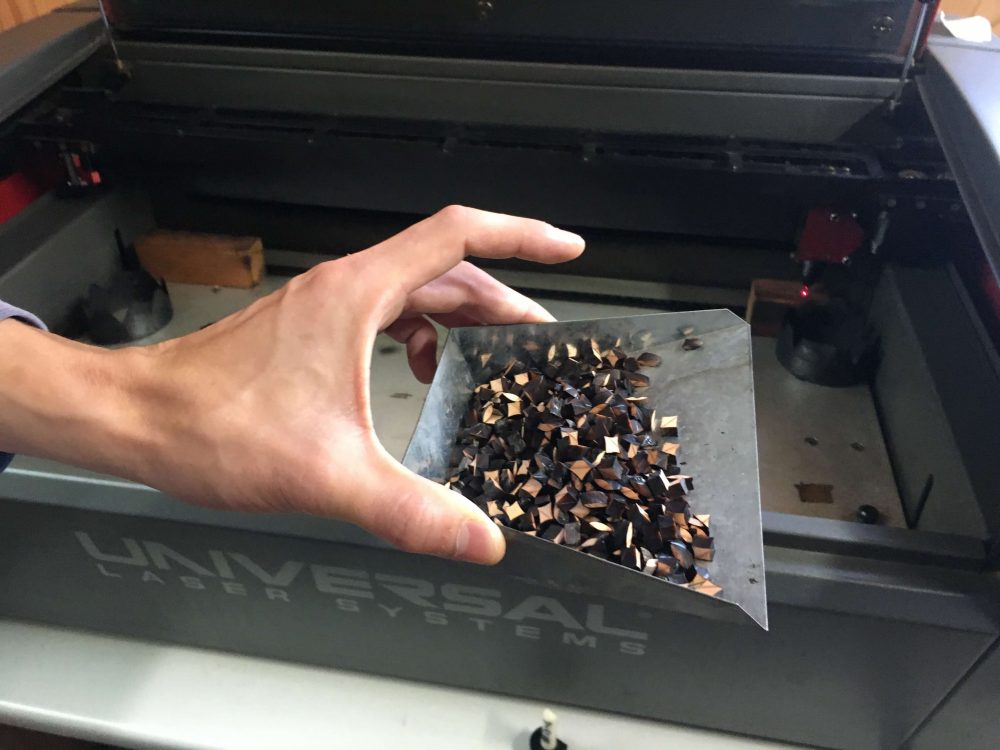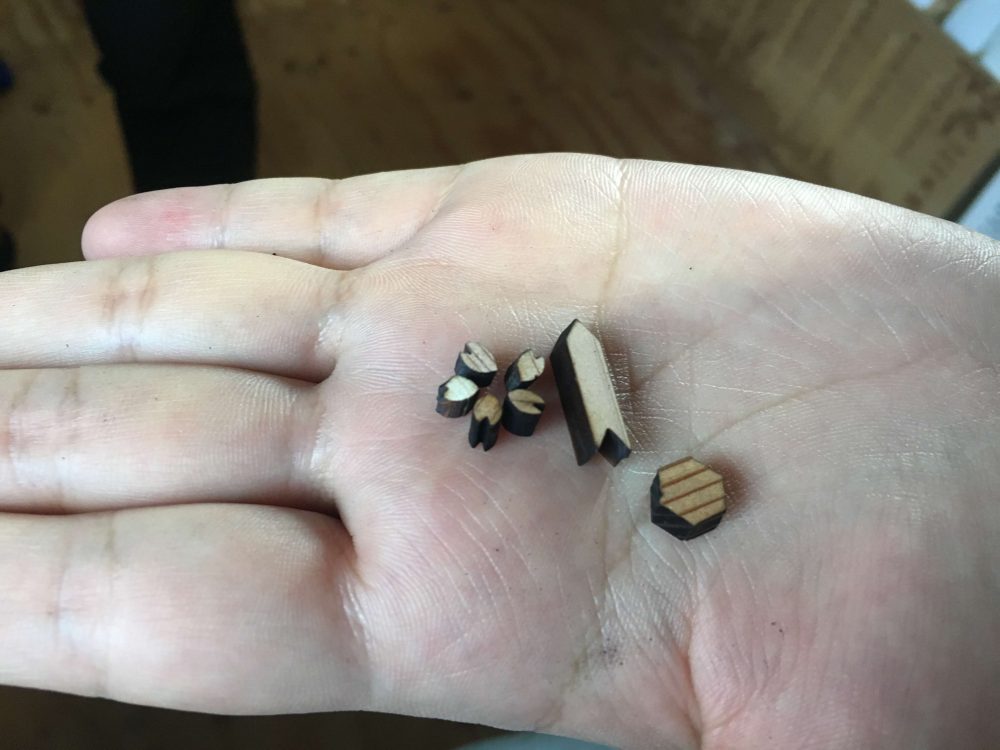 I thought the leftover pieces of wood looked like artwork as well as they were small and cute.
I think that it would be great if they used the waste wood as well in some way so that everything could be recycled.
2. Use a tool shaped like a chisel to remove the remaining chunks of wood that have not yet fallen from the wooden coaster design.
To make a "watermark design coaster" requires very delicate technique, so it was difficult for me. If any slight missteps are made when hollowing out the design, the coaster will not be able to be sold as a product.
It was also hard to keep my head down and do detailed work for a long time as my neck and eyes got very tired.
From this experience, I learned the reason for why prices of miscellaneous Japanese wooden goods are so high.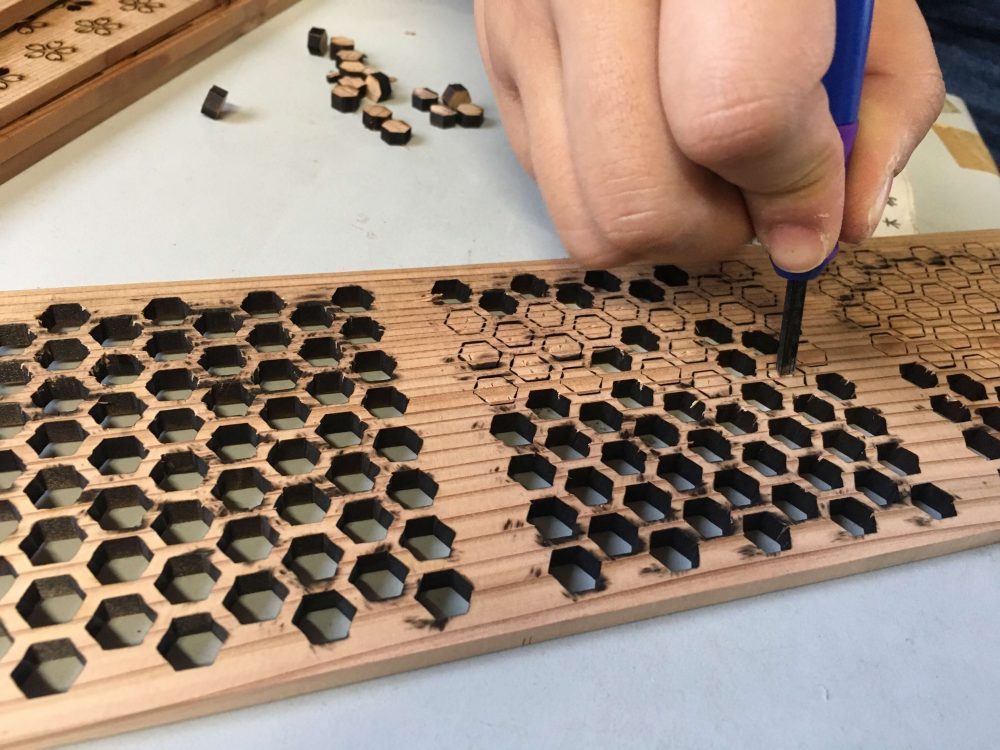 3. Finishing touches
After some finishing touches, another very delicate Japanese-style watermark design coaster had been completed. I felt relieved when looking at the finished coasters.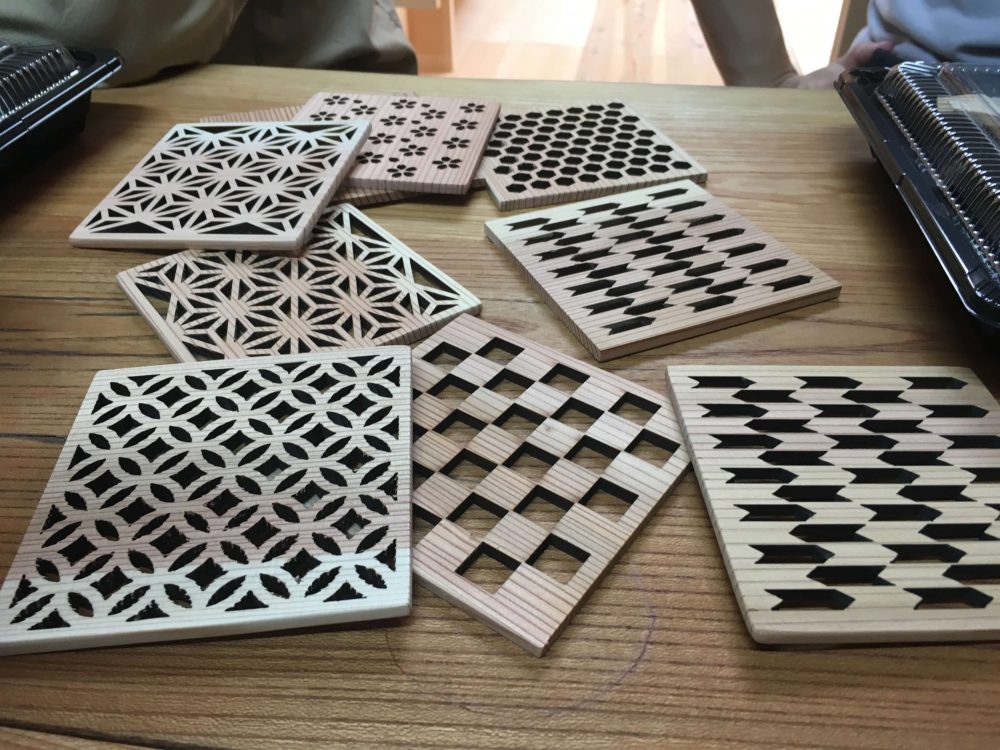 Since the craftsmen of the sawmills are continually conducting research on how to make the best use of the Yoshino forestry industry, they are well aware of the characteristics of Yoshino lumber. With this knowledge, they continue to innovate and manufacture products such as building block toys with smooth surfaces, watches, tissue paper boxes, ornaments, and etc.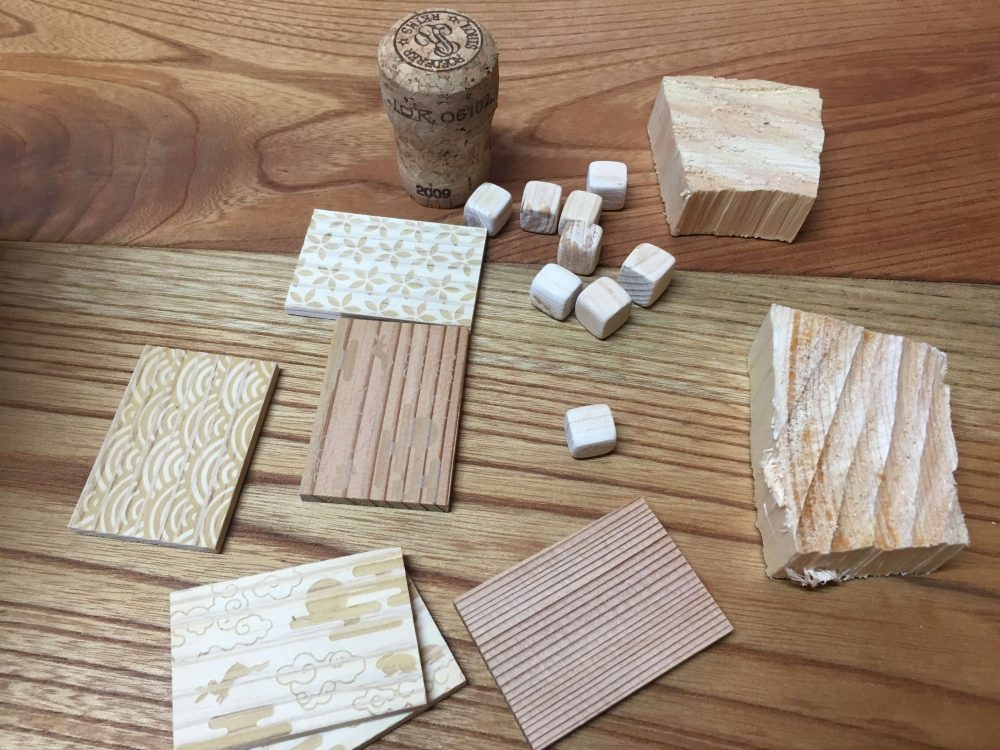 As it was my first time making wooden chopsticks and coasters, it was a fresh and interesting experience beyond my imagining.
In particular, the process of printing and cutting patterns into wooden boards with a laser was very attractive. From this experience, I became very interested in the job of craftsmen.
It was a very fulfilling activity since I could get to know the skills of the craftsmen and be involved in the production of delicate woodworking products.
Everyone, if you come to Yoshino and experience woodworking, you can refresh your body and soul!
Please try such an experience in Yoshino Town.