When you get off at Kintetsu Asuka Station, you step into a historical stage full of ancient romance. Asuka Village is an outdoor museum that invites travelers to an era that took place over 1,300 years ago. If you come here, it is the standard to visit the ancient tombs while feeling the Manyo breeze.
…but…
I would like to introduce Asuka from a slightly different perspective, starting with some transportation methods for Asuka.
First of all, I would like to introduce rental bicycles.
You may already be familiar with them if you have been to Asuka before. There are many people who use rental bicycles including groups of school students, which are a common sight in Asuka.
In front of Kintetsu Asuka Station, there are three rental bicycle shops.
If you are uncertain of which to choose, I recommend going to the Asuka General Information Center "Asuka-bitono Yakata" in front of the station.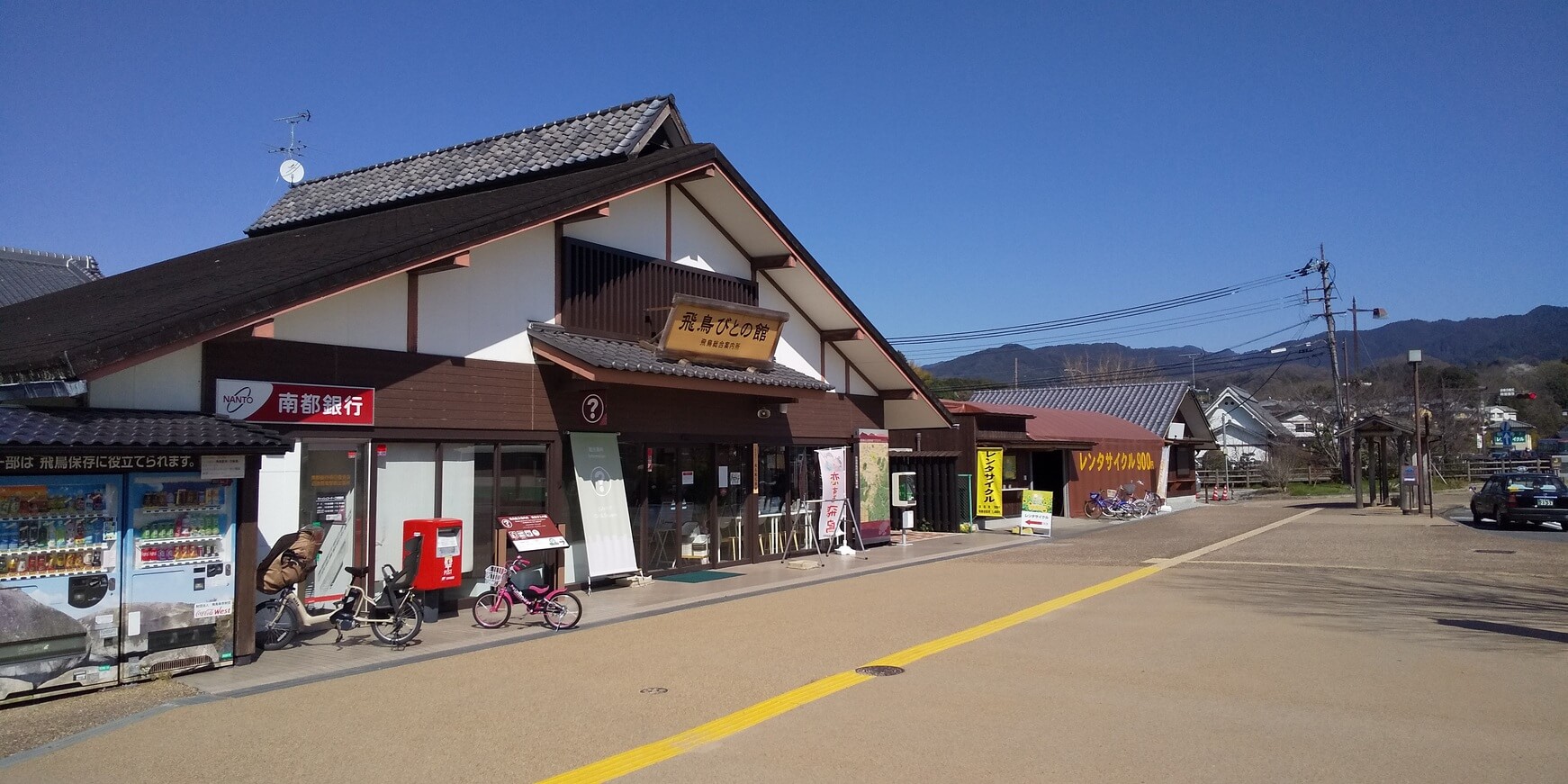 There is a comparison table of the three rental bicycle shops in there that can assist you in choosing the shop that suits you best.
In addition, if you purchase the "Asuka Kingdom Passport" (100 yen, including tax), which is a compact booklet of sightseeing points information and model courses, you can get a 100 yen discount ticket on a rental bicycle.
Virtually the rental fee becomes free!
The websites for the bicycle rental shops have even more advantageous discount coupons, but the Kingdom Passport also has discount coupons for other facilities as well, so it is a good idea to buy one to commemorate your trip.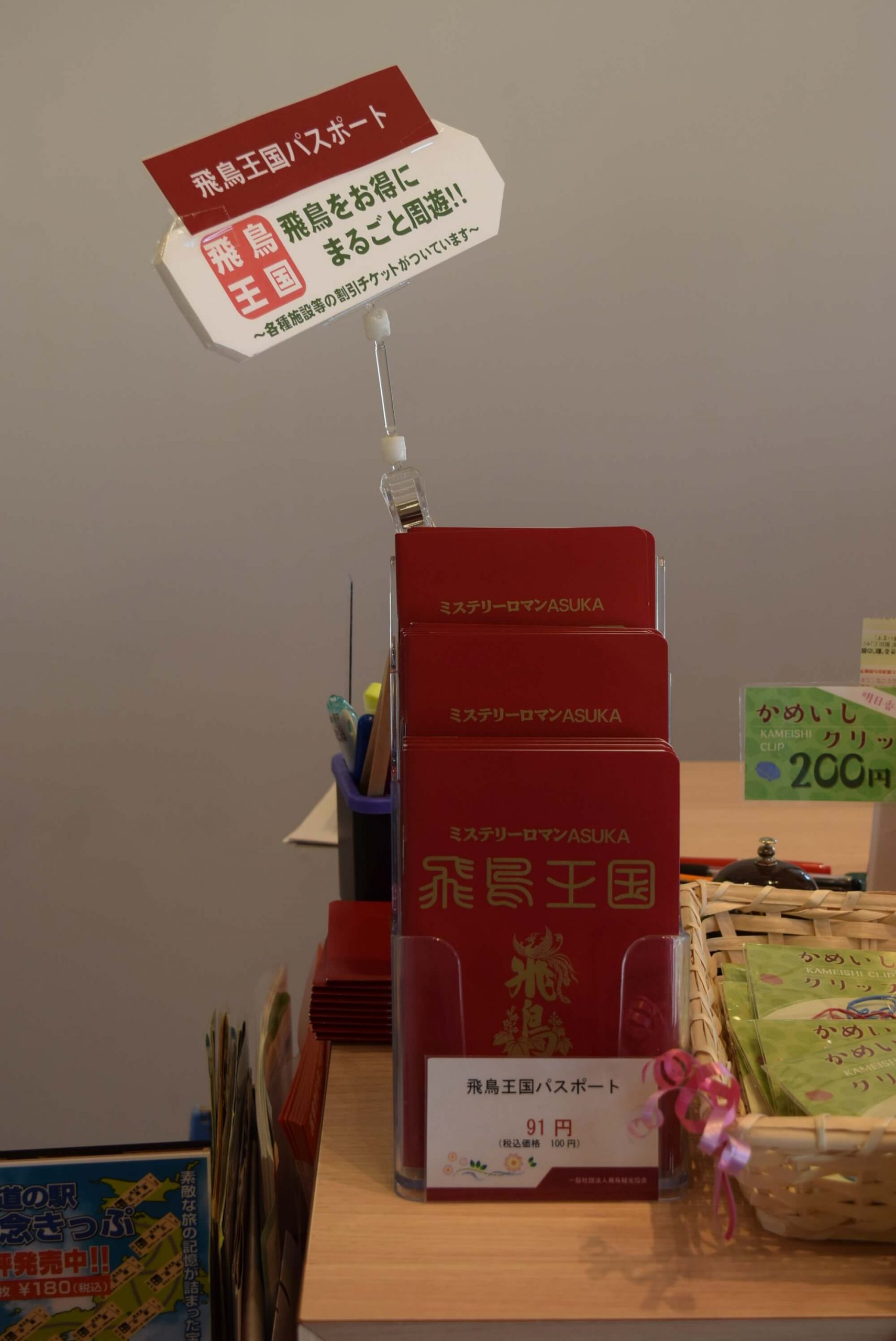 At the bicycle rental shop, you can choose between two types of bicycles: regular and electric.
The price is 1000 yen for the regular bicycles and 1500 yen for the electric bicycles. The electric bicycles seem expensive, but Asuka has a lot of uphill roads that are made a lot easier by the electronic-pedal assistance.
That being said, I recommend choosing the general type if you are confident in your physical strength, otherwise choose the electric type.
Unfortunately, I am not that physically strong, so I chose an electric bicycle. All you need to do in order to rent a bicycle is to fill out a consent form and present your ID. I found that I could easily rent one without making a reservation.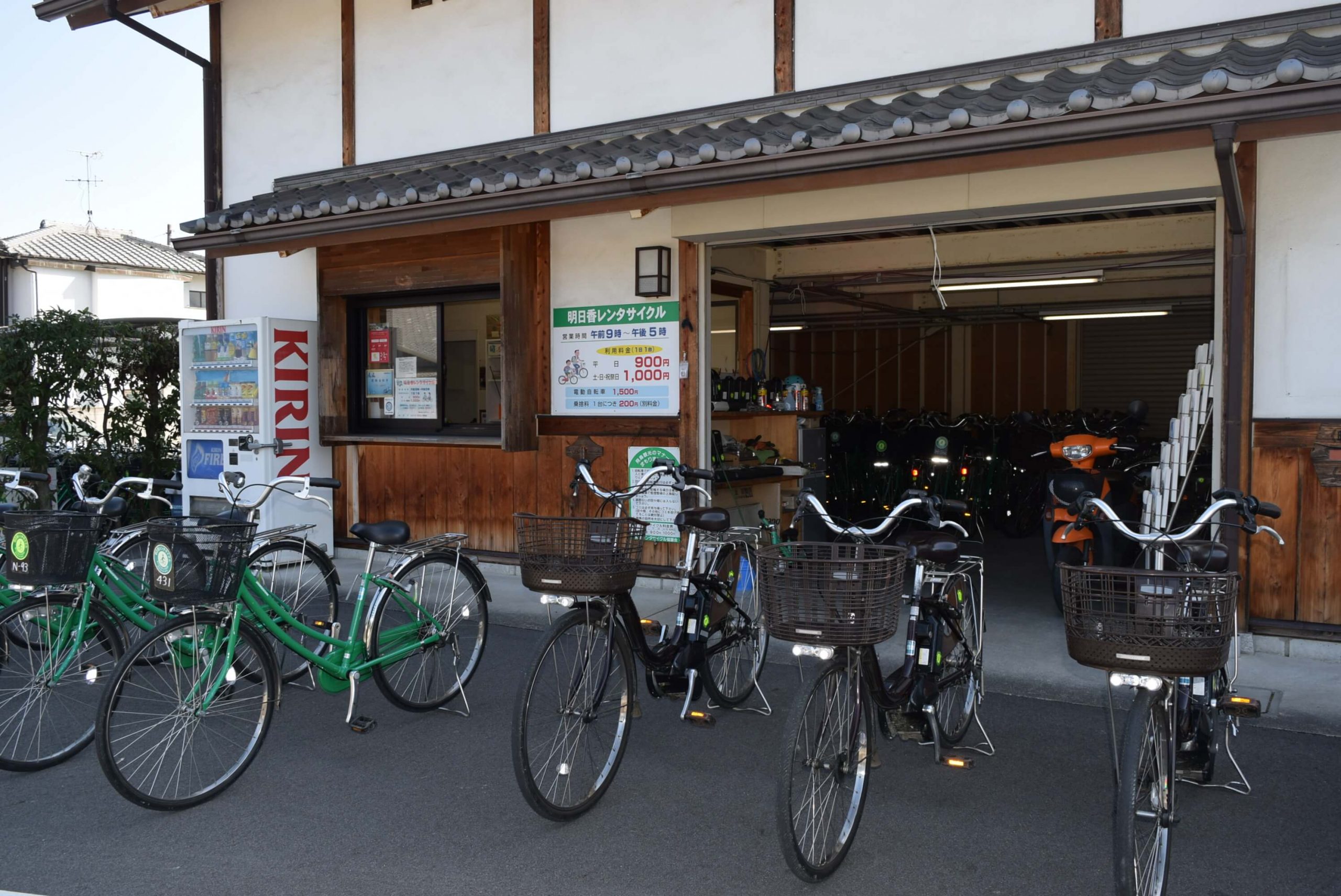 Slowly cycling through Asuka on a gently uphill road surrounded by fields, I felt a slight breeze. I was a little worried at first  because it was my first time riding an electric bicycle, but this anxiety soon faded as I quickly got used to it.
Asuka has a lot of good routes for cycling, including a well-developed bicycle path leading to Kitora Tomb (famous for its mural), the route to Takamatsuzuka Tomb, roads through villages where old traditional houses still remain, the narrow alleys  of the town surrounding Okadera Temple, and the steep roads which lead into deep Asuka.
By the end of the day, I felt like my bicycle was my travel companion and I felt a little sad when I had to return it.
The next thing I would like to introduce are  "MICHIMO "  ultra-compact cars.
These small two-seater electric cars can be rented at the MICHIMO Station in Asuka, which is located in front of Kintetsu Asuka Station.
Reservations can be made in advance online or by telephone.
The rental price is 3,000 yen for 3 hours, 4,750 yen for 5 hours, and 8,000 yen for a full day (all tax not included).
There are also four-seater electric cars, which can be rented at the same price as two-seater, but it is better to reserve one of these in advance because there are only two of these cars available.
After showing your driver's license, you will receive instruction on how to use the car.
As I am not athletic and not good at driving, I was pretty scared at first…
However, the structure of MICHIMO is relatively simple, so if you know how to drive a basic car,  I think that you can get the knack of using an ultra-compact one pretty easily.
The windows are made of vinyl that can be opened and closed with fasteners and entering/ exiting the vehicle is done in a manner similar to that of an amusement park go-kart.
It's like a cute little partner which transports you through the ancient history theme park known as Asuka.
Because the seats are low, you can feel the ground like you are taking a walk.
The maximum speed of these vehicles is 80 km, which is a great combination of convenience for traveling and making small turns.
The car is also quite the attention-drawer for those who see it.
"Wow! A little car!"
"Oh my… Grandma also wants to try it."
I could hear such conversation happening between a grandson and a grandmother.
Compared to normal cars, the rear seat is pretty noisy and vibrates more. This feeling of swaying and shaking felt like something I had experienced before. I searched through my memory and hit upon a light truck carrier.
When I was a kid, I rode on the carrier of a light truck on my way home from working in the field. This memory and the rural scenery spreading out before me matched up and made me feel nostalgic while riding in the small car. This feeling was probably brought on from viewing Asuka's landscape.
Lastly, I will introduce the Asuka tour bus known as "Aka-kame."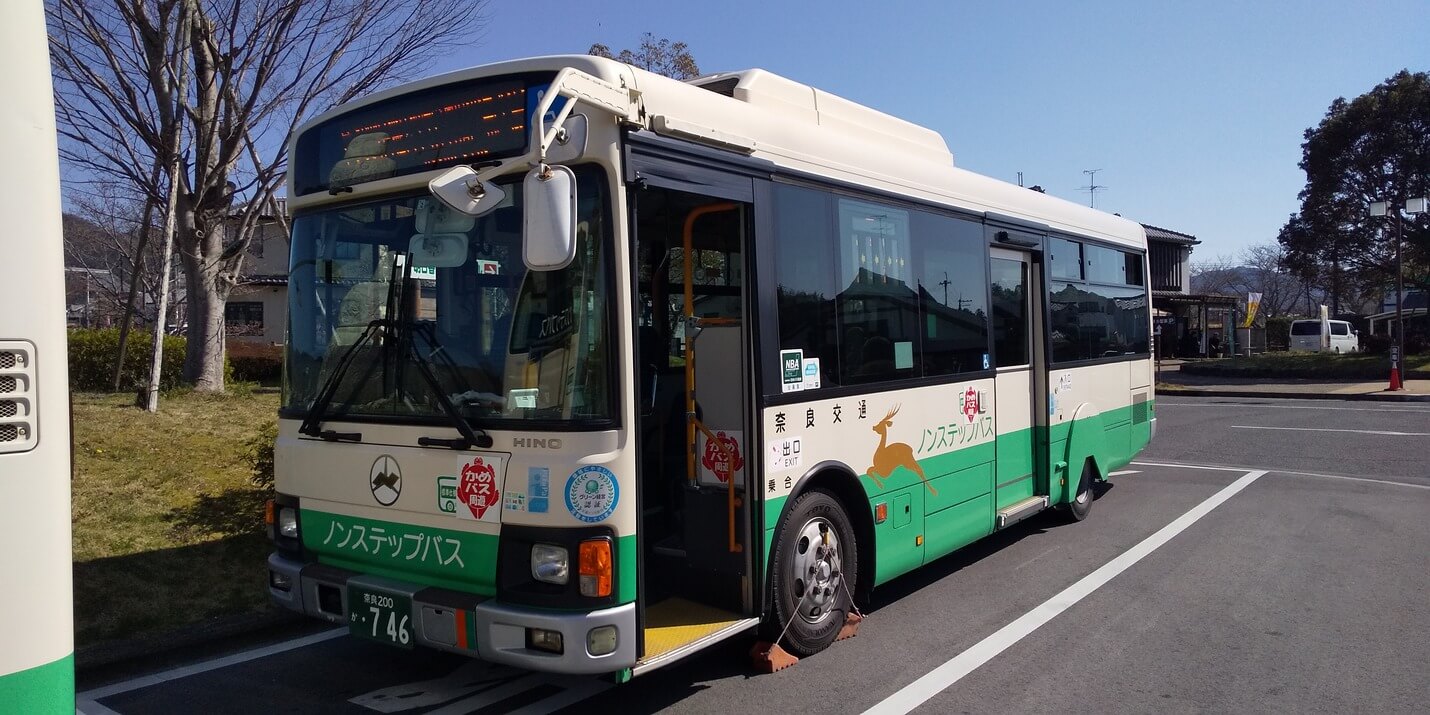 This bus runs between Kintetsu Asuka Station and Kashihara-jingumae Station, going around the main sightseeing spots of Asuka.
The bus basically runs once an hour, so it's a good idea to buy a full day ticket (650 yen for adults, 330 yen for children) to see all the highlights of the tour.
On Saturdays, Sundays, and holidays of the autumn sightseeing season, there are tourist guiding services provided by volunteers, making it quite the luxurious experience.
Watching through the huge windows of the bus, I was fascinated by the driver's wonderful driving skills, especially his ability to navigate narrow roads that seemed like they should trap the bus for sure.
In addition to the ones introduced here, there are many other transportation methods to get you around Asuka, such as taxis and cars; which one you choose is all up to you.
Of course, you always have the option of using your own two feet.
If you walk while listening to the sound of the wind and the chirping of birds, you will feel your body slowly become one with the atmosphere of Asuka, where the ruins and idyllic rural scenery spread out before you.
And no matter what transportation you use, you can enjoy Asuka in your own way. Asuka is a place where you can transport yourself into the world of 1300 years ago and forget about your everyday life.
For my next article, I will introduce the "Aton Toy Museum," which also appears in this land of ancient history.