So everybody, what kind of impression do you have of "shimeji mushrooms"?
"They are mushrooms that are sold cheaply at supermarkets."
"They are delicious but it's sad that they can never be the main dish."
"Ingredients that children do not like."
But here in Yoshino Town, Nara Prefecture, there is an individual who produces delicious "Yoshino Shimeji" that are so good they defy common sense! That person is Mr. Sakai of Yamamoto Mushroom Garden. Together with his wife and staffs, he produces shimeji mushrooms that reflect the commitment and care that goes into growing them.
Tour of the cultivation process
I vaguely knew that shimeji mushrooms are grown in jars, but I didn't understand the shimeji mushroom cultivation process until visiting and conducting this interview. Mr. Sakai showed me around the Yamamoto Mushroom Garden factory, saying, "Many people don't know about this process." Now let's take a look at how shimeji mushrooms are produced!
Making a medium for mushroom fungus
Simply put, shimeji are mushrooms that grow only from a culture medium of nutrients and water. Therefore, creating the culture medium is an important process that affects the taste.
It seems that the make-up of the culture medium differs depending on the farm, but Yamamoto Mushroom Garden uses Yoshino's clean water, rice bran, and wheat bran. They also use wood chips made from crushing high-grade wood like Yoshino cedar as one of the ingredients as well.
After the ingredients are mixed, they are put into a jar and sterilized using a high-temperature kettle. By sterilizing the inside of these bottles, shimeji mushrooms can grow without being disturbed by foreign fungus. After sterilization, the bottle is set aside to cool until the next day when it is finally time to plant the shimeji spores. About 12 grams of fungus are put into each bottle. It is strange to think that a tiny eukaryote with almost no weight can become a shimeji mushroom after it grows.
Growth
From here onward, the bottle which contains the shimeji fungus will be moved through several rooms within the period of about 100 days. First, the fungi is propagated in a room with a controlled temperature of about 20°C. As the amount of fungi increases in the bottle, a white color will spread on the outer surface, and the process is moved along after about 30 more days.
The next room has a slightly higher room temperature than the previous one. The temperature of this room is kept constant throughout the year, and it is a comfortable space that is cool in summer and warm in winter. Since it is cultivated all year round in this controlled environment, I think it is somewhat impressive that the price of shimeji mushrooms stays stable all year round.
After spending about 70 days, the bottles are transported to the last room which is kept at a room temperature of 15°C. In this room, where humidity and light are controlled, a baby shimeji mushroom cluster finally emerges out of the bottle.
Harvest
It takes about 11 days from the emergence of the small mushroom buds to reach a size that can be shipped and sold. Considering the entire process so far, this last part feels very short. When I was staring at the shimeji mushrooms that had grown to a magnificent size, Mr. Sakai asked me if I would like to try and harvest them. "Well, can an amateur do it…?" I asked in response, and was told that even elementary school students can do it, so with a determined mind, I gave it a try.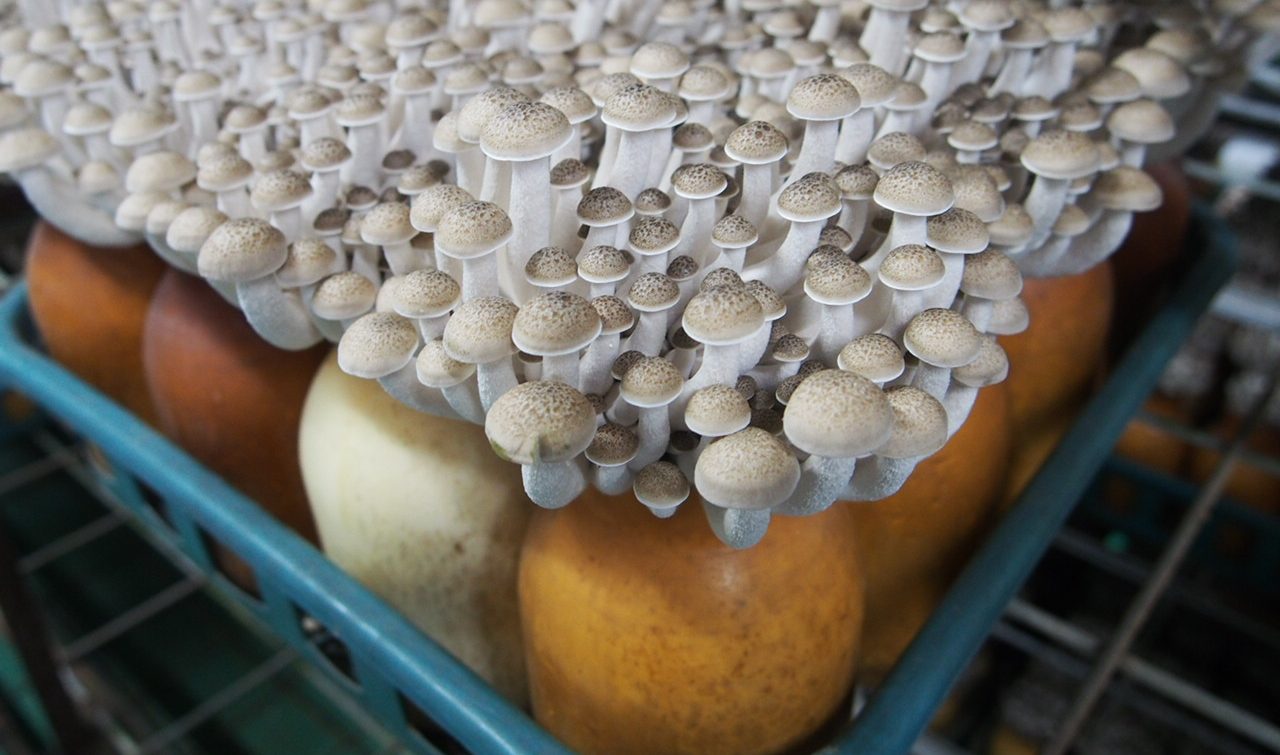 "Grip the stock from above with both hands so that you are encompassing it, and pull it while rocking it from side to side. No force is required."
Following the instructions I received, I suddenly found I had pulled the mushrooms out successfully! When the shimeji mushrooms suddenly left the jar it created a strange sensation. It's difficult to express, but it felt oddly comfortable… Even members of the general public can try their hand at harvesting shimeji mushrooms if they participate in a tour here, so why not experience it for yourself and see what I mean?
Cook and taste "Yoshino shimeji"
After harvest, the shimeji mushrooms go through inspection and are bagged. When I observed the cultivation process and even experienced the harvest, I suddenly became attached to these mushrooms, but I still didn't know their taste! That's why it was time to eat. Ah… Thank you, Shimeji… I will take some of you home with me now!
It's worth noting that while this time I bought shimeji directly from the factory, both raw shimeji mushrooms and processed products can also be purchased online.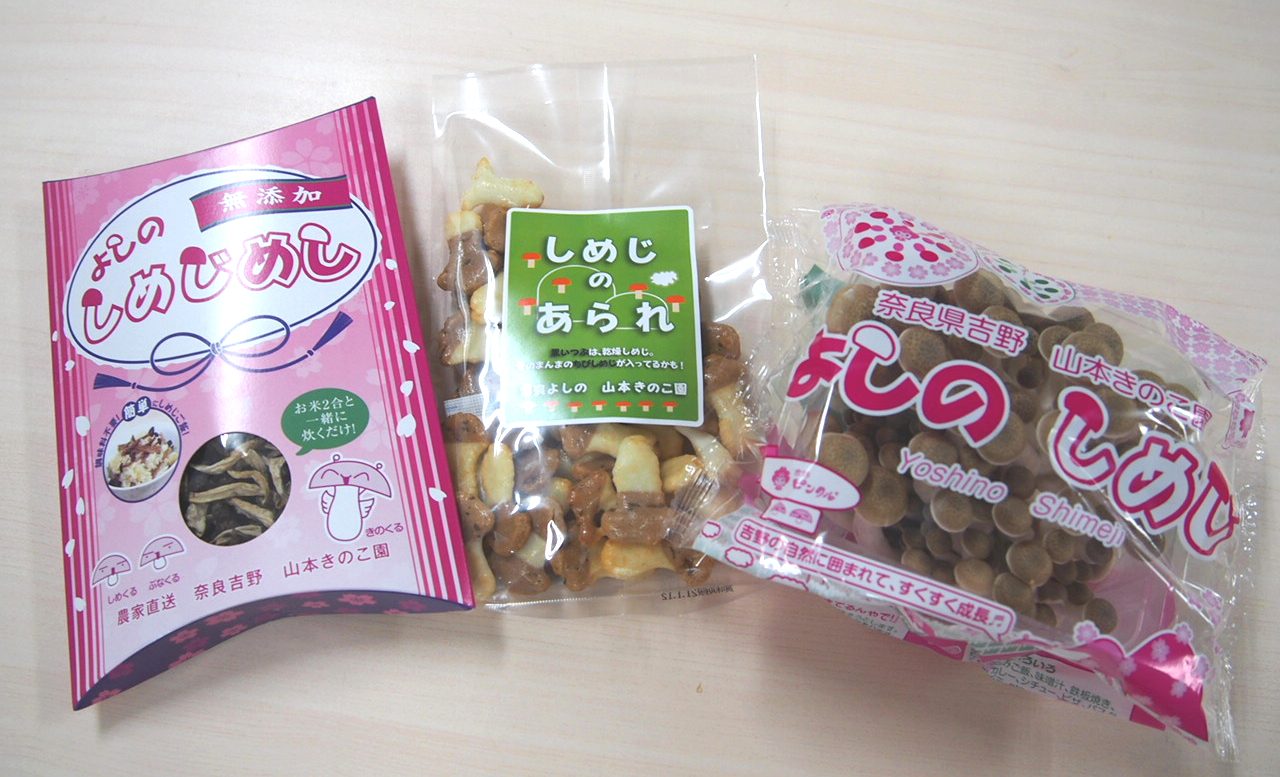 The unknown chewy taste of "raw shimeji"
First of all, in order to understand the difference between shimeji mushrooms that I usually buy at the supermarket and Yoshino's Yamamoto Mushroom Garden shimeji, I should try comparing them directly.
Take the case of opening a bag containing shimeji mushrooms… what is this? In the case of the Yoshino type, there is almost no peculiar smell …? Already feeling a little surprised, I attempted to separate some mushroom stocks from the bunch and found that it put up a stiff resistance to being torn! Store-bought shimeji mushrooms tear into small bunches with just a small amount of force, but Yoshino shimeji mushrooms apparently have a tougher quality to them.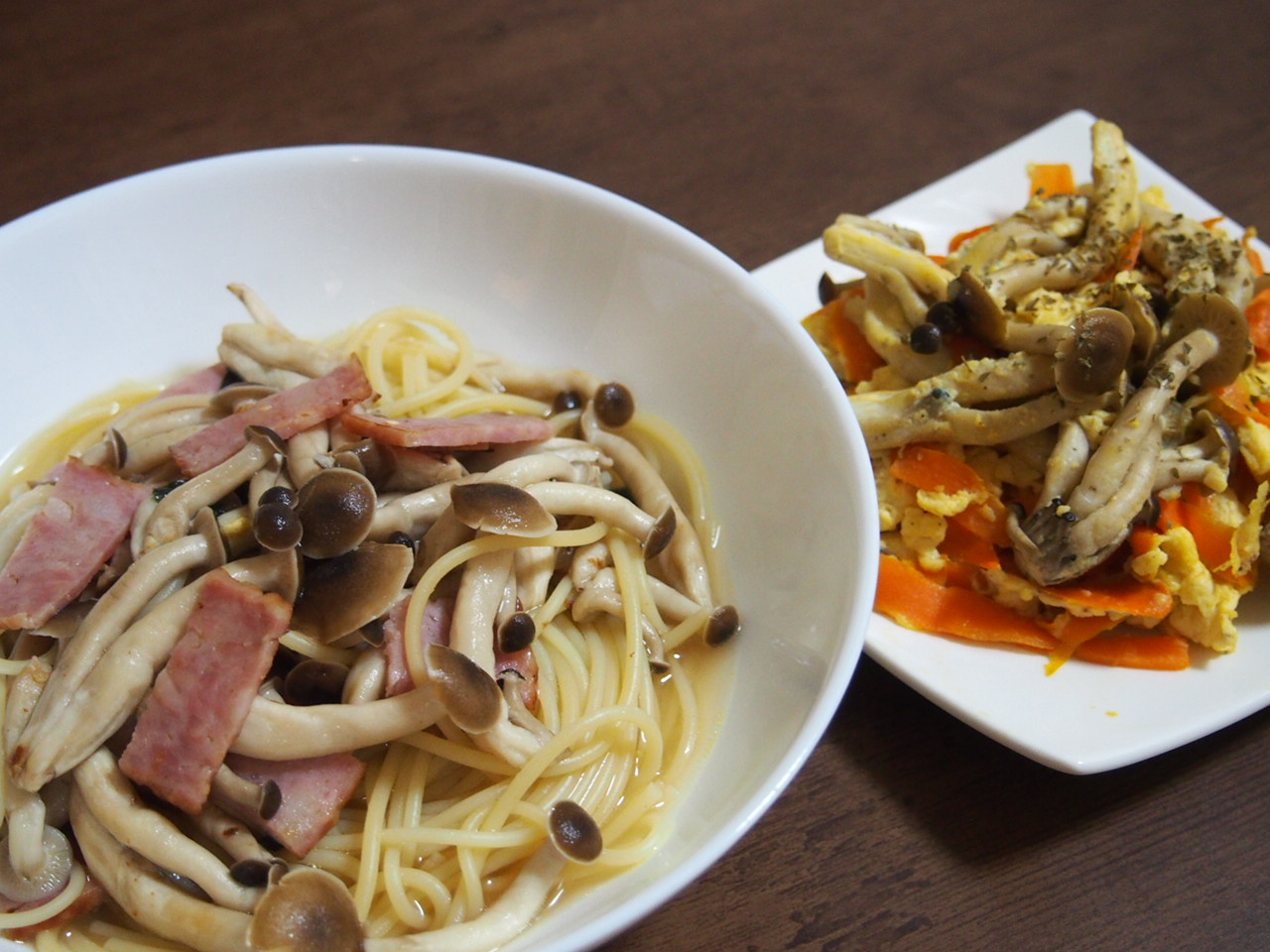 I completed making the two meals above. It is said that "Pride is taken in the chewy texture of Yoshino Shimeji" so I had pretty high expectations, but even so, the texture of these mushrooms was so crispy that it far exceeded my imagination!
Even if time passes after cooking, the texture of the shieji is not lost and it is crispy until I finish eating. I have never encountered a shimeji mushrooms with such qualities at a supermarket. I was a little skeptical at first, but I soon discovered that there was no lie in the phrase "The shimeji of Yoshino are the main course."
"Shimejimeshi" mushroom rice mix that is easy to make
Next, I decided to try mushroom rice mix that has cute packaging. Dried shimeji mushrooms and a pack of soup stock are included in the set, so all you have to do is combine them and cook the rice as you usually would. No seasoning is required, so anyone can prepare it easily without messing it up.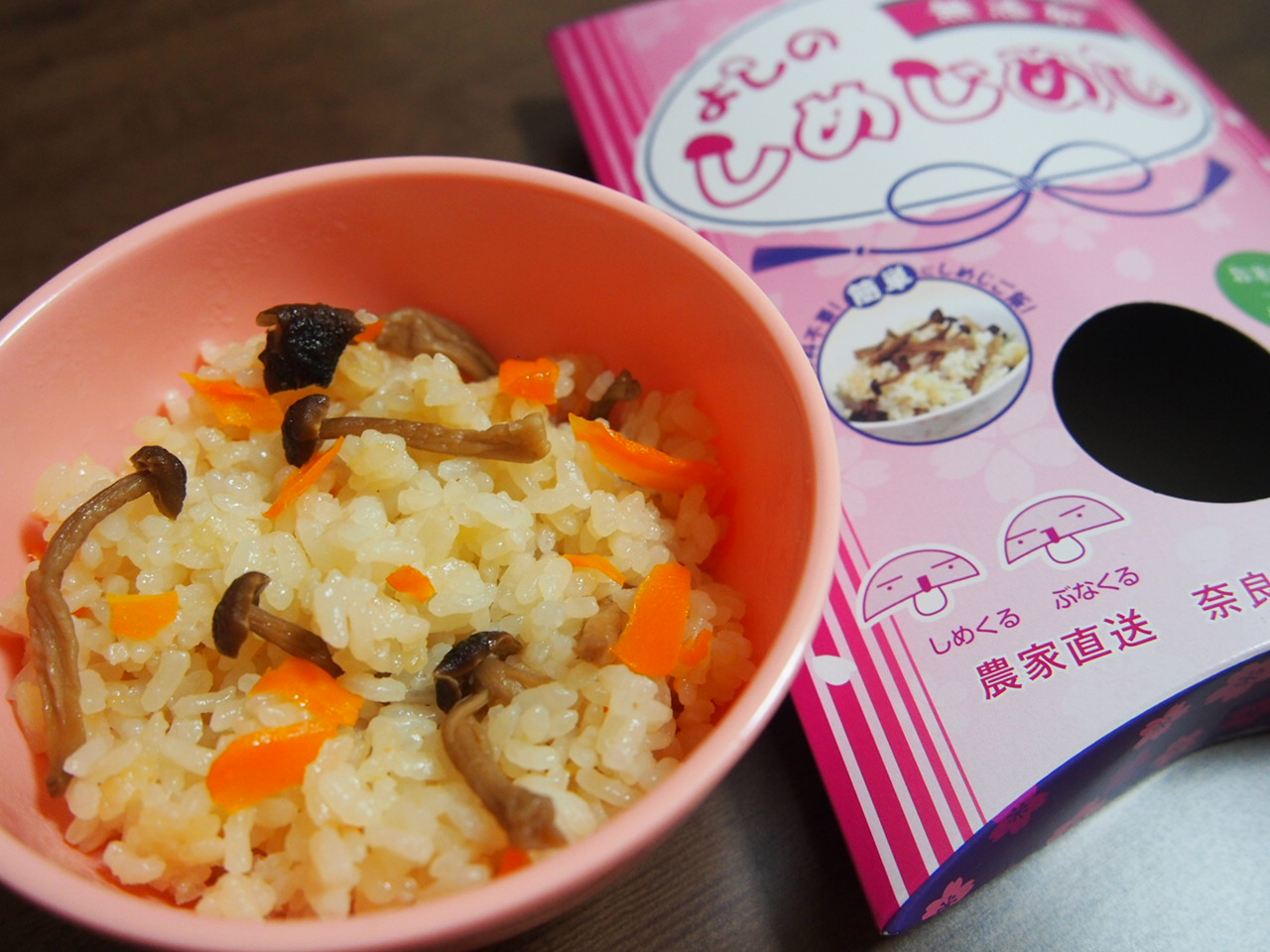 Upon opening the rice cooker after it finishes, the aroma of soup stock and shimeji mushrooms spreads through the air, stimulating the appetite. The amount of shimeji mushrooms for the prescribed amount of rice strikes just the right balance, not too much and not too little. Even though they are dried and cooked, the shimeji mushrooms retain their enjoyable characteristic chewy and crisp texture. Moreover, they actually have more flavor than the raw variant!
It is written on the back of the package that "Dried shimeji mushrooms have condensed flavor and nutrition." I see! The dried shimeji mushrooms, which last for a long time have an improved taste and nutritional value, are amazing. I only added some carrots to the mix this time for a bit of color, but it seems that if you throw in some burdock and ginger, you can make an even more nutritious shimeji rice dish.
Shimeji crackers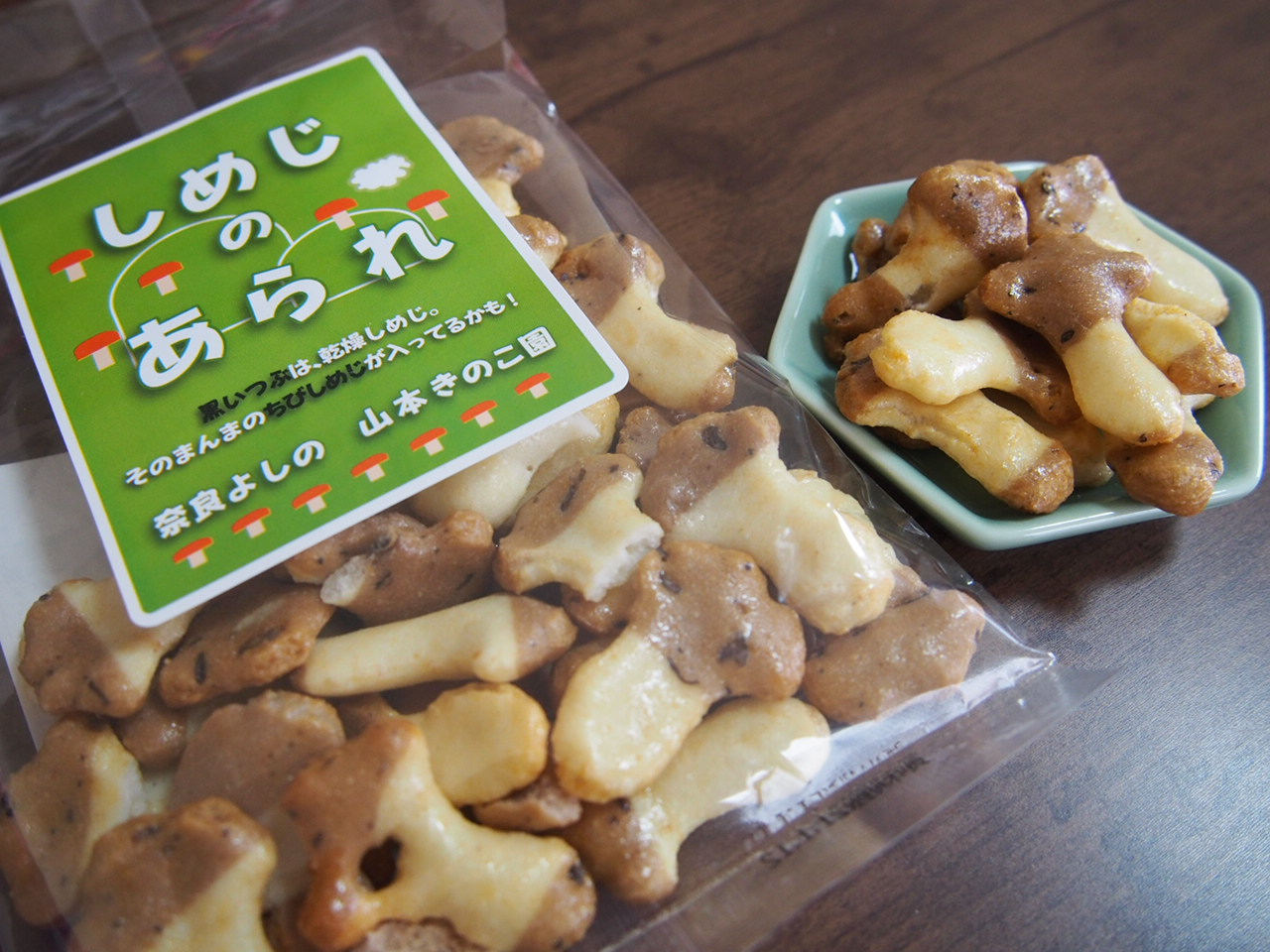 The appearance of the aptly named "Shimeji Crackers" will inspire you to say "ah, it named as it is!" upon seeing them the first time. They contains dried shimeji but they can be easily eaten as a kind of crunchy snack food.
Examining the raw ingredients of the Shimeji Crackers, you will find that instead of containing extra things such as artificial coloring, natural umami ingredients such as scallops, bonito extract, and powdered kelp are used. This snack seems to be kind on the body even if you can't stop eating because it is so delicious.
================
Yamamoto Mushroom Garden is an exciting place that even adults can enjoy. When you visit Yoshino Town, please take a tour of this place and try "Yoshino shimeji." For families who have children who say "I hate shimeji mushrooms!" or for those who say "shimeji mushrooms are all the same," a taste of Yoshino shimeji will surely change such views, at least a little.

You can purchase Yamamoto Mushroom Garden products from here>>>
* Delivery available only within Japan.
Yamamoto Mushroom Garden
(山本きのこ園/Yamamoto Kinoko-en)
Address:2394 Kamiichi, Yoshino-cho, Yoshino-gun, Nara
TEL:0746-39-9199
HP:https://www.yamamoto-kinoko.com/index.html