Hello, my name is Jin and I am a Chinese student from Nara Women's University.
During my internship in the town of Yoshino, I had the opportunity to experience bass fishing at Lake Tsuburo, so in this article I would like to write about the charm of bass fishing.
When I lived in China and even after coming to Japan, I had never been fishing before…
My father sometimes fished in nearby lakes, streams, ponds, and so forth, but I didn't really understand the appeal of fishing and thought, "Is it really that fun?"
My knowledge about fishing was limited, so honestly I had the impression that "fishing" was like just sitting and waiting until a fish got caught.
However, fishing at Lake Tsuburo seems to be different.
The anglers go out early in the morning on a boat and head to the middle of the lake. When I imagined such a scene, I felt that the idea of "fishing" seemed more interesting.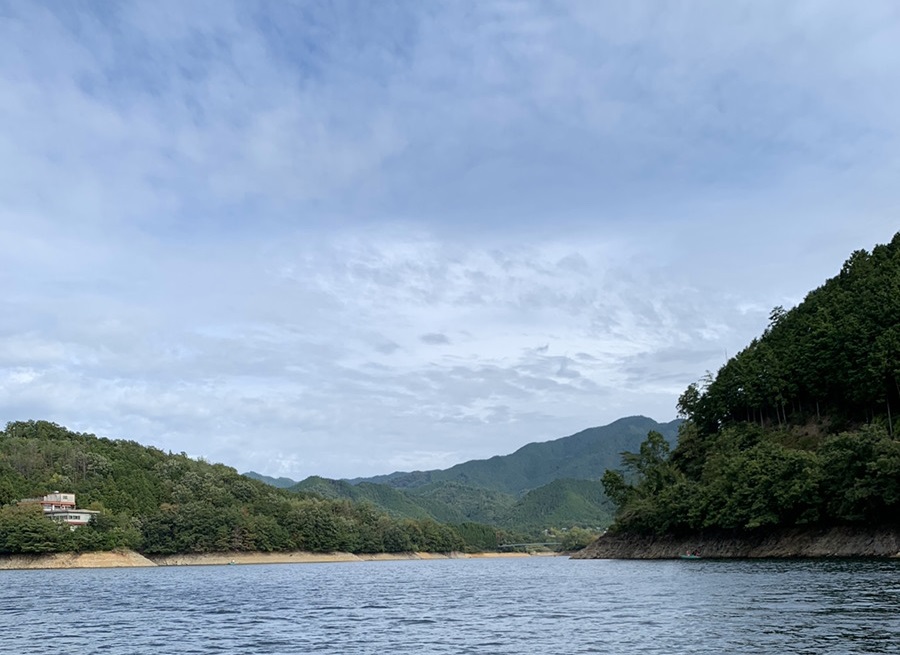 Lake Tsuburo is an artificial lake created during the construction of a dam in 1963, and has a circumference of 32 km and an area of 150 hectares. It is a large lake, so it takes about 2 hours to drive around it.
There is a dock area where you can rent various types of boats for fishing or for tours of the lake, depending on what you want to do (pedal boats are also available.)
If your purpose is sightseeing, there are cruise ships (from April 1st to the end of November) that take you around the lake for about 30 minutes.
At Lake Tsuburo, you can enjoy fishing all year round – usually you can catch black bass, and smelt in the winter time as well.
So, I went out fishing on Lake Tsuburo in the early morning of an autumn day.
We arrived at around 7:30am, but by that time there were already many people fishing. There were a lot of cars parked around Lake Tsuburo, hinting to the popularity of the lake among fishing enthusiasts.
It was my first fishing experience, so a professional bass angler, Mr. Fujiwara, taught my friend and I how to fish from scratch. However, we were pretty confused as we picked up our fishing rods for the first time.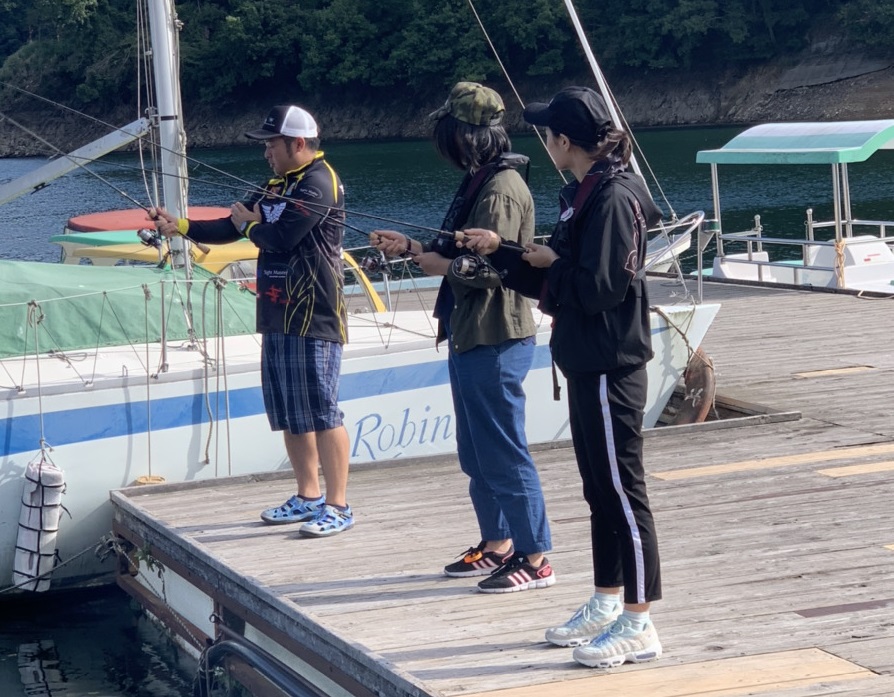 After practicing casting with the fishing rod for a little while, Mr. Fujiwara suggested we give it a try on our own.
The first time I tried throwing a fishing rod by myself. Mr. Fujiwara said, "Your posture is OK, so let's try again," so I threw it again.
When I cast my fishing line for the second time…
What!? I felt something pulling on the fishing rod.
Mr. Fujiwara shouted, "You caught a fish! It's quite big!"
Upon hearing that, I started winding the reel quite hard.
I certainly felt something was resisting my pull in the lake and it was pretty heavy…
When I finally managed to catch the black bass, the muscles in my arm felt pretty tense.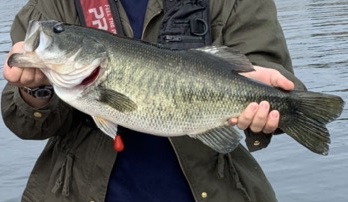 It was hard for me to understand how amazing it was immediately after I caught it, but the black bass was actually quite big, being more than 50 cm in length.
Nearby fishermen gathered and took pictures of the black bass I caught.
One fisherman told me that "It's big enough to win a prize in a black bass fishing competition!"
It was really an example of beginner's luck and I was very happy.
Wasn't that some good luck?
By the way, you can't bring home the fish that you catch, so I had to return it to the lake, which was a shame. If I could have eaten the fish, it certainly would have been fatty and delicious…
The black bass I caught was a "largemouth bass," which is also called "California bass" because they live mainly in North America.
Largemouth bass are spindle-shaped, have large eyes, and have a blackish scale that hangs from its back to its abdomen.
When I looked it up on the internet, I found that  86% of the fish is edible! It is adaptable to any environment, its meat is tender, and it looks good, so it is said that there are large breeding grounds for the fish in China.
Shortly after I caught a huge black bass, my friend was also able to catch a black bass.
Coincidentally, I think the spot on the lake where we were fishing was very good.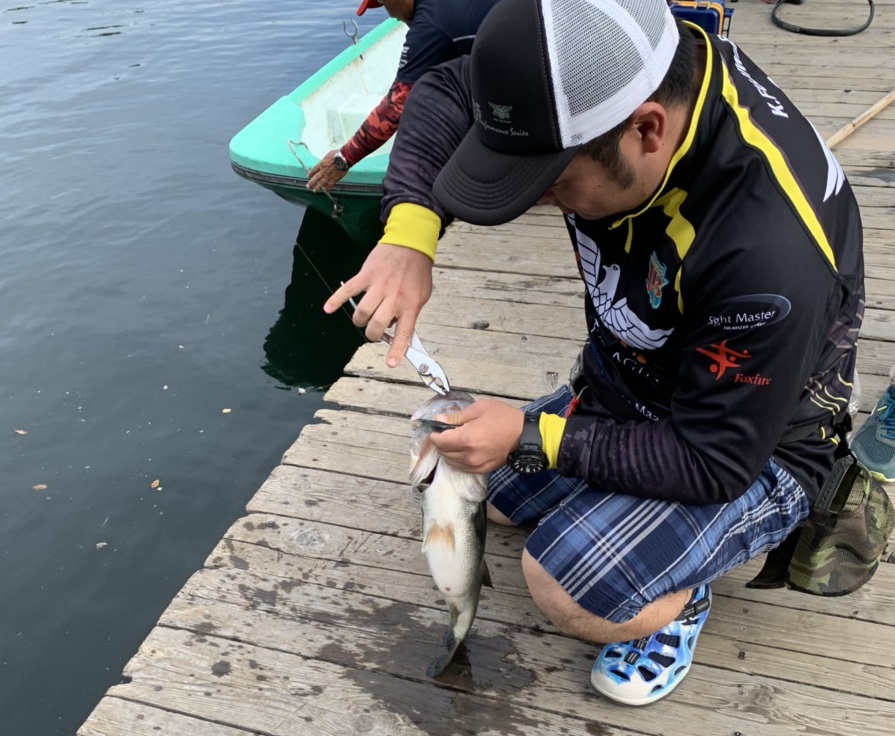 After we had caught our black bass in the morning, we continued fishing until 4 pm, but we were not able to catch any more that day.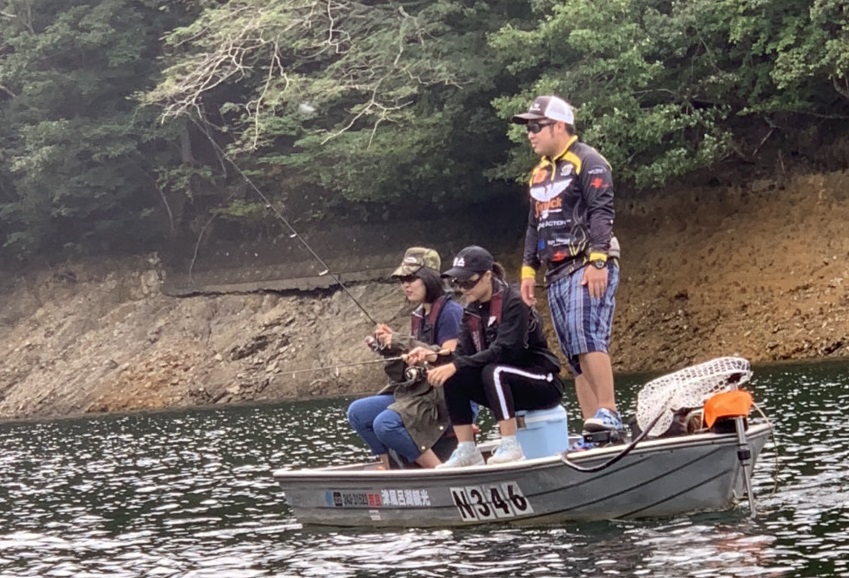 So on the way back home, I was happy, but a little disappointed.
After lunch, we took a break and took a pleasure boat tour to enjoy the scenery of the lake.
Lake Tsuburo has beautiful seasonal scenery, such as cherry blossoms in the spring and crimson foliage in autumn.
Among the many events throughout the year, I would especially like to revisit the fish release event held annually. The release of fish has a special meaning as an activity that brings fresh life to the lake
On this occasion, I could experience the charm of fishing through catching black bass for the first time.
If you have a chance to go to Yoshino, please visit Lake Tsuburo too!