Temple Lodging/B&B SEIKOKUJI
Nara is the prefecture with the most World Heritage sites in Japan. That being said, it still lacks an adequate number of lodging facilities for guests.
It's a pity that travelers often do not stay overnight in Nara as they can just take a day trip here from major cities such as Osaka and Kyoto instead. As for Yoshino (located a little ways south of Nara City), despite its amazing natural landscape, history, shrines, and temples, not many travelers make the trip out here…
This is something that makes me sad to think about.
In Yoshino, you can enjoy the big chorus of insects during summer nights and the beauty of the stars spread out in the pitch-black night sky.
Would you like to come and stay and feel the atmosphere of Yoshino?
In this article, I would like to introduce "B&B SEIKOKUJI" a temple lodging ( Japanese, "shukubo"), located in the "Kuzu" area of Yoshino Town, where about only 900 people live.
The Kuzu area of Yoshino town is a small but beautiful village that is officially registered as one of the "Most Beautiful Villages in Japan."
Though they may have never been to Kuzu before, the beautiful scenery of Kuzu can bring about a feeling of "nostalgia" in Japanese people when they visit.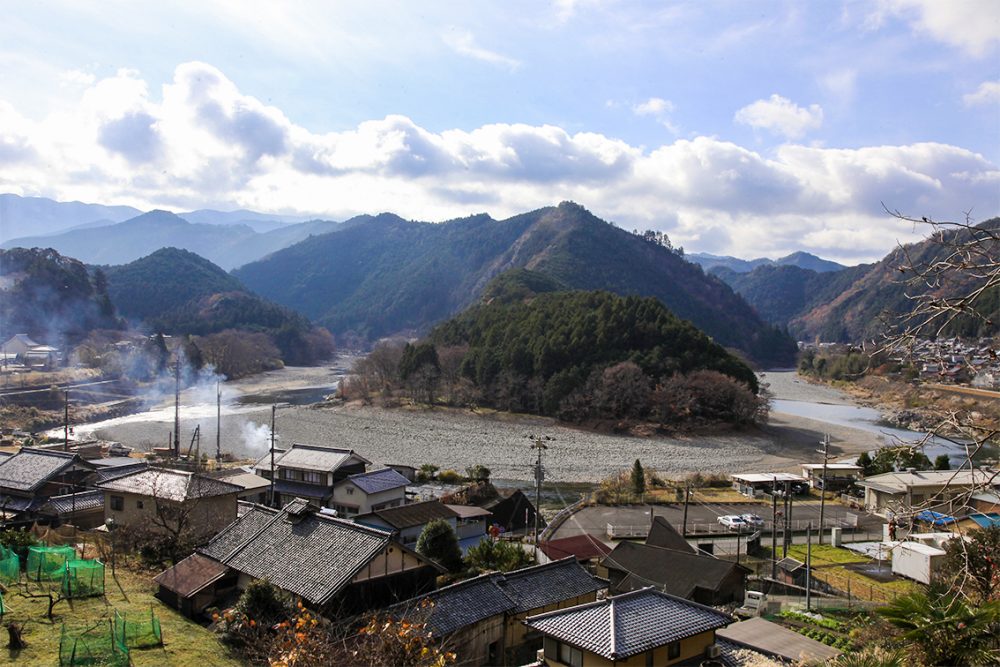 "B & B SEIKOKUJI" is located in this idyllic rural landscape.
Reservations are limited to one group per day.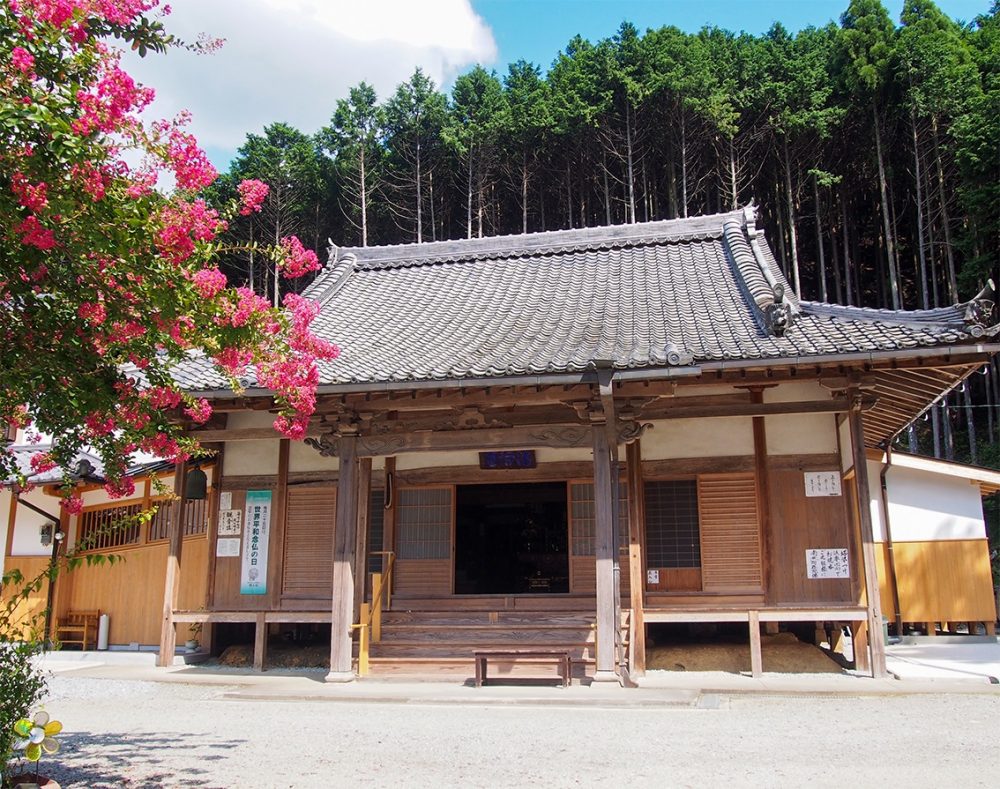 Assistant Priest Hase Masakazu, who worked as an editor for a music publication in Tokyo, returned to his hometown of Yoshino in the wake of the 3/11 earthquake. He renovated the detached building of the temple and opened a temple lodging there in 2016.
Mr. Hase, who has been exposed to a lot of music, invites musicians to stay at his guesthouse and occasionally holds live concert events as well.
About 70% of the customers are from overseas, and so far, people from over 30 countries have stayed at his place. Famous French actress Juliette Binoche has also been a guest.
B & B SEIKOKUJI has created new opportunities for tourism in Kuzu as very few foreigners visited the area prior to its establishment.
The guesthouse is actually its own separate building located next to the Hase family home and temple. There are two Japanese-style rooms on the 1st floor with a kitchen, bath and toilet. On the 2nd floor, there is also a spacious Western-style room that is large enough for a family to stay in. Since only one group can stay per day, it would be quite the luxurious experience if you stay here alone.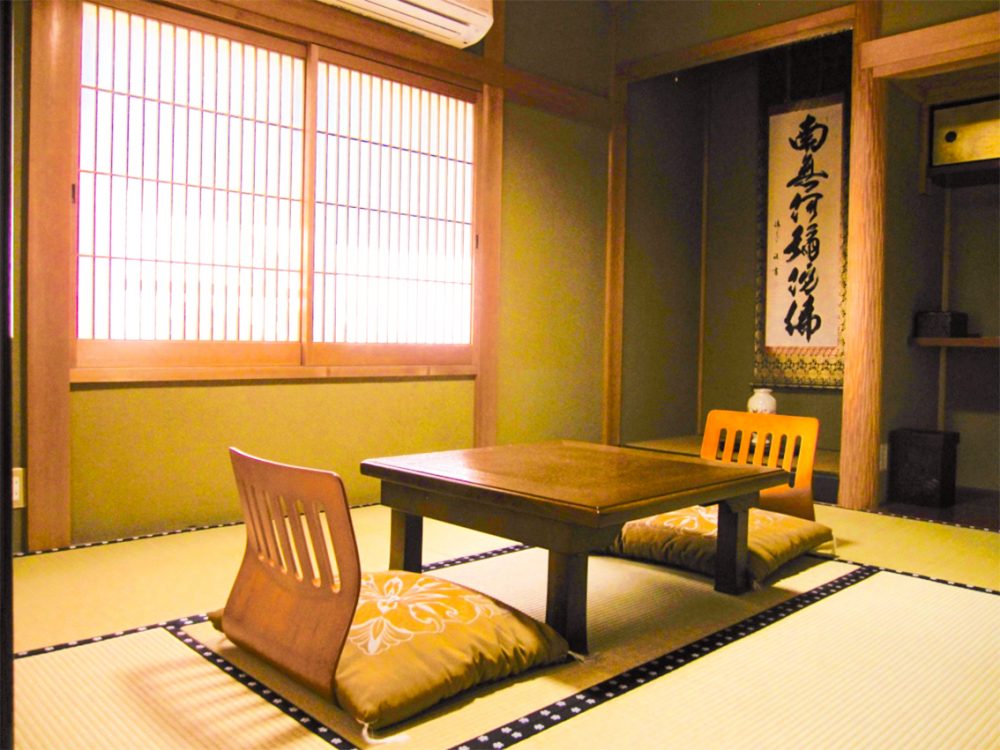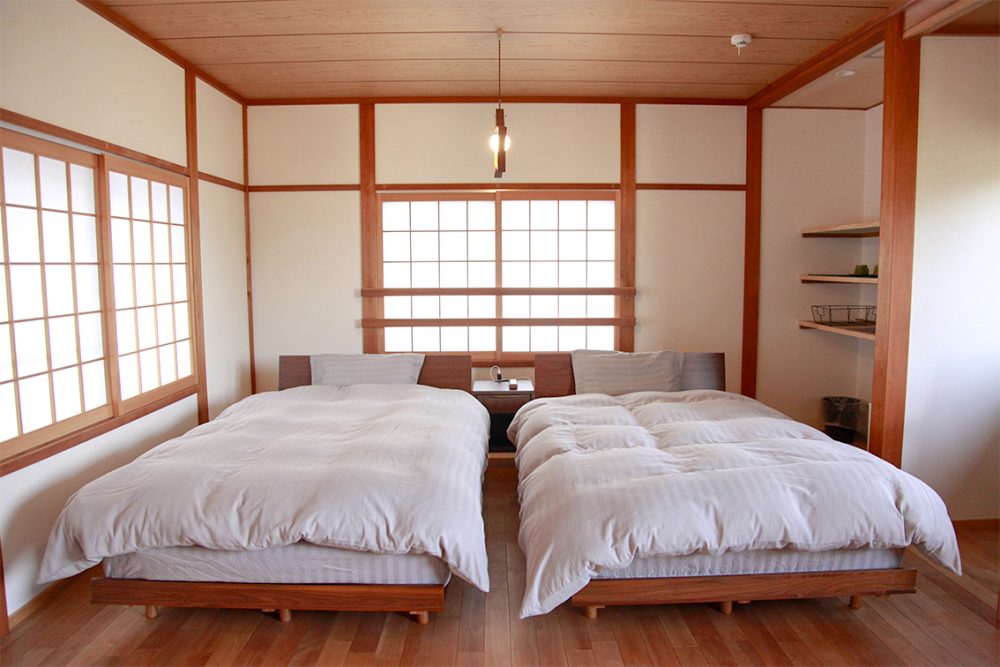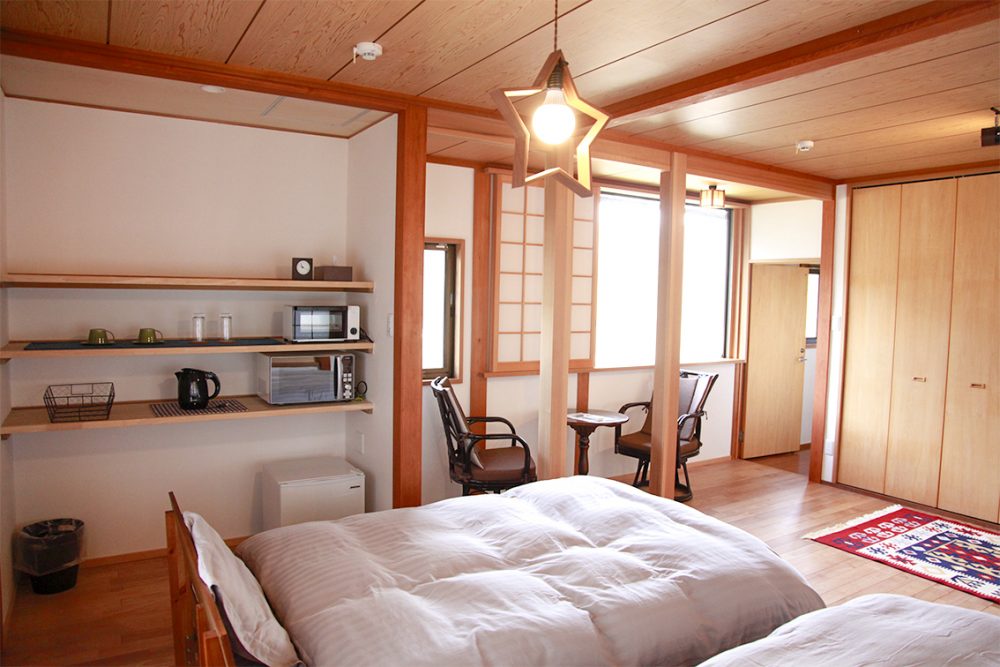 The view from the large window on the second floor makes you feel at ease.
You can relax with a book while sitting on a chair by the window, or vaguely watching the dim sky gradually turn bright.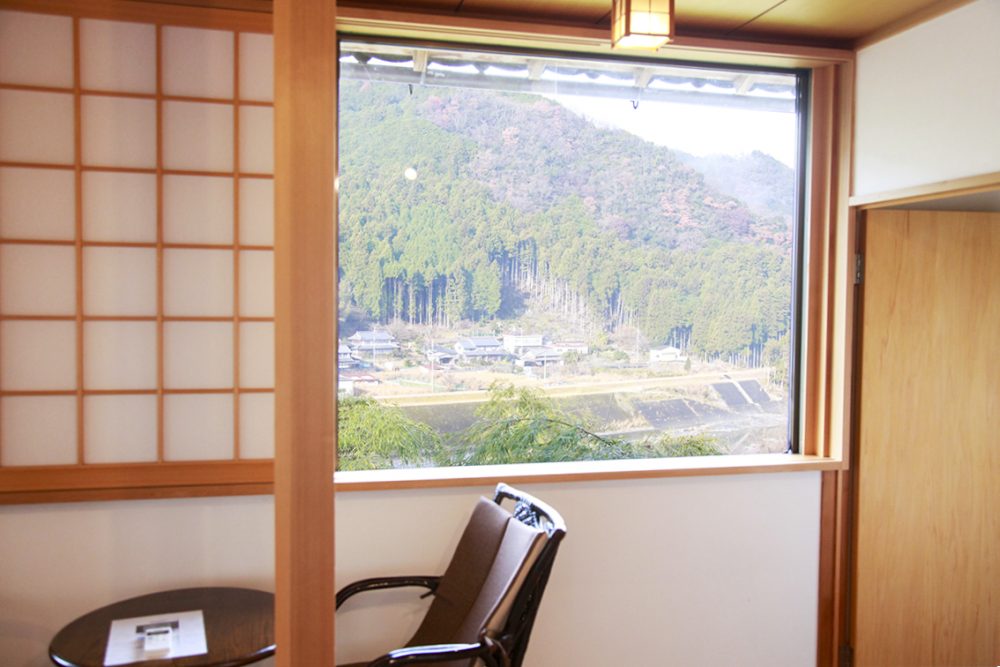 There are also yoga  available for those who want to start their day with a relaxing workout.
This is a guesthouse where you can get away from all the noise of daily life and take some time to focus on healing your mind and body.
Dinner is not included, so you will need to eat outside or take home a box of Yoshino "kakinoha-zushi", which literally means "persimmon leaf sushi." There is also a kitchen in the guesthouse that is equipped with all of the seasonings so you can make your own meals if you wish.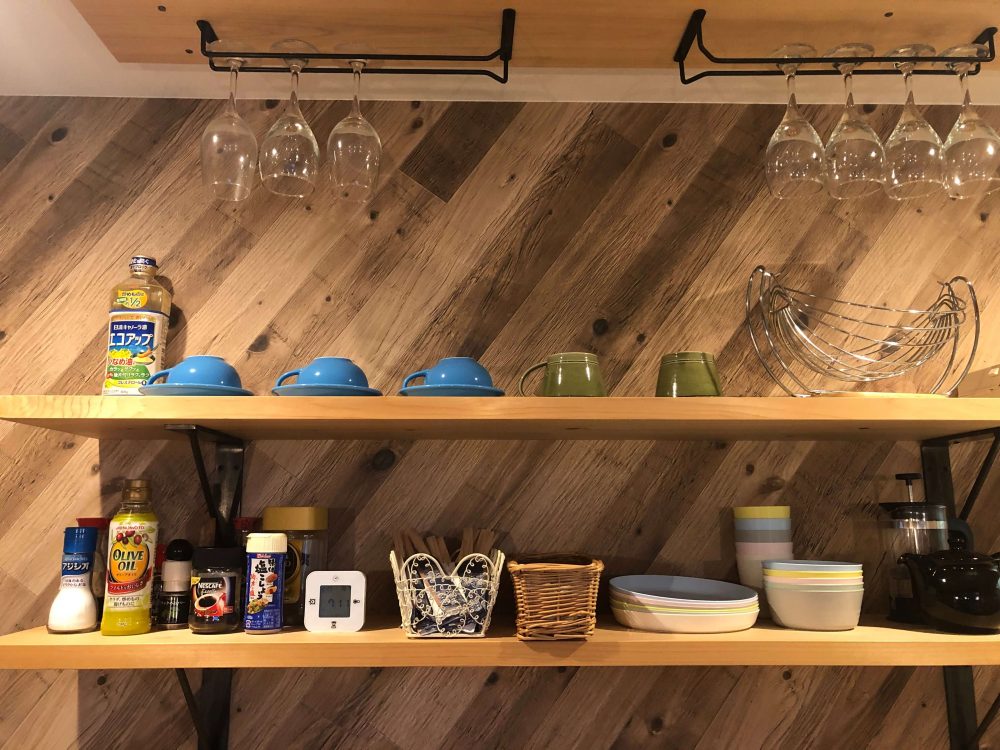 Breakfast consists of bread, bananas and yogurt.
Coffee (for a charge) and tea (free) are also available.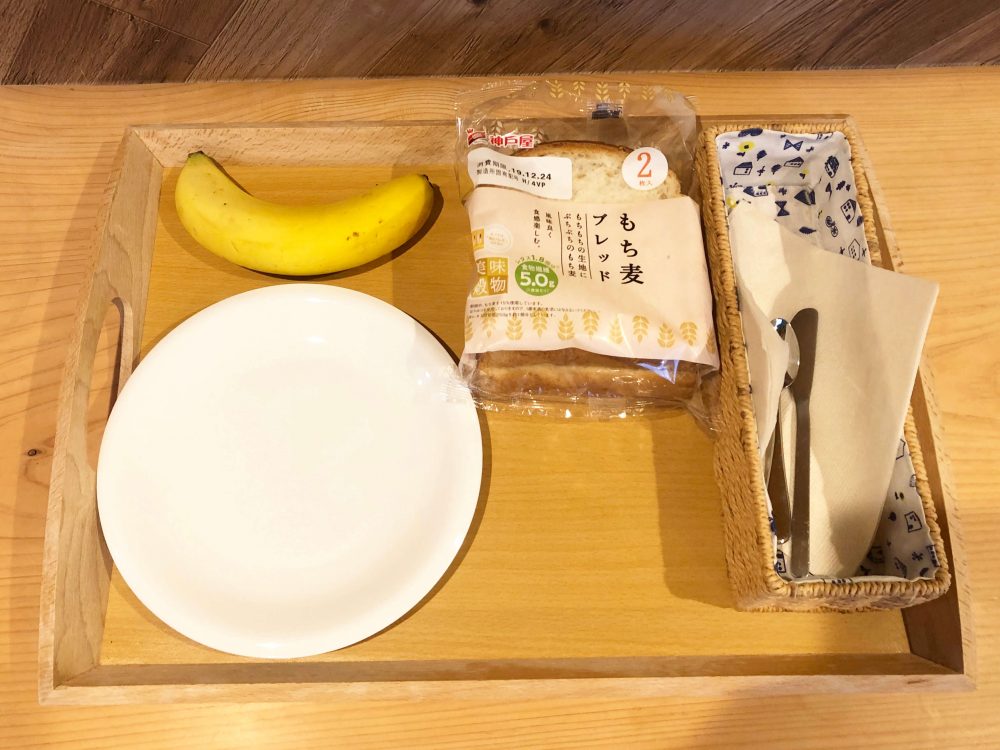 Snacks and cup ramen are also available for when you are hungry (for a charge).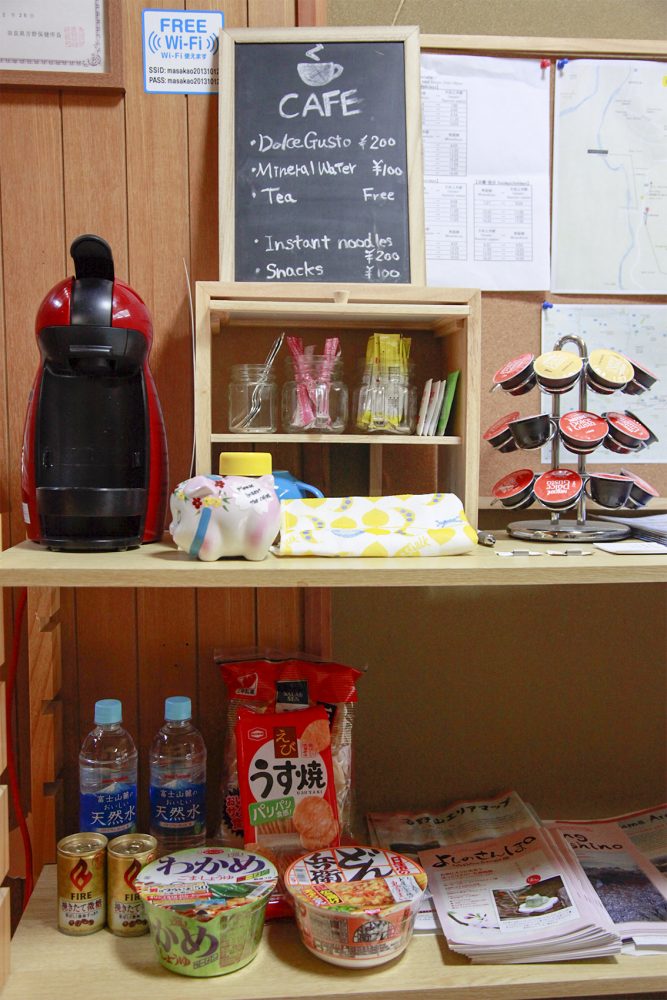 It may not be equivalent to a luxury hotel, but B & B SEIKOKUJI has everything that you need to enjoy your stay. The balance of independence and hospitality is very comfortable.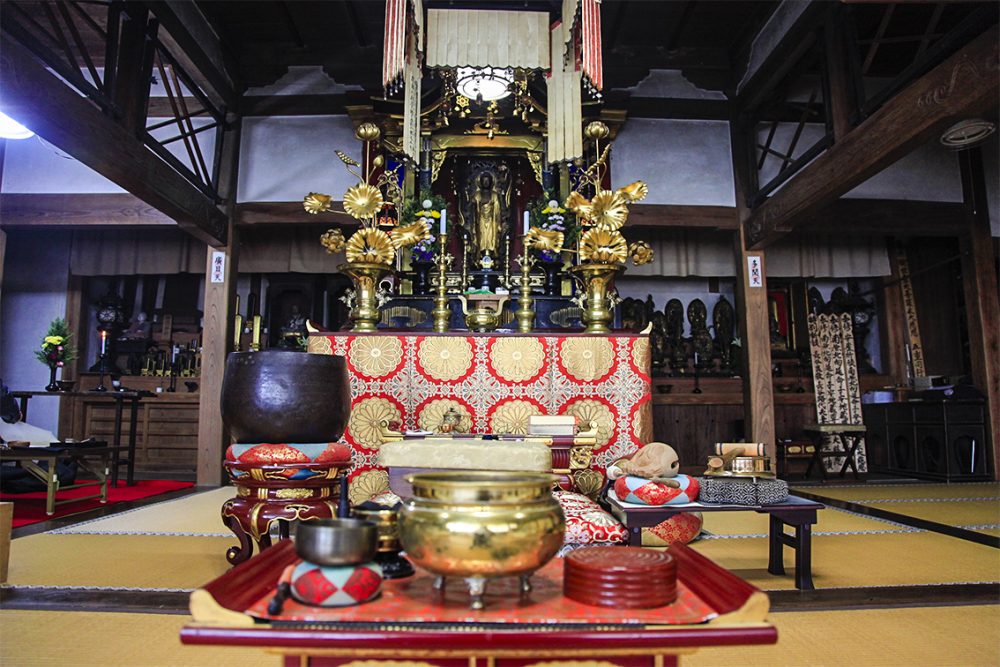 Those who wish can participate in the temple's morning service.
You can also try special Buddhist temple activities such as sutra copying and tracing Buddhist images.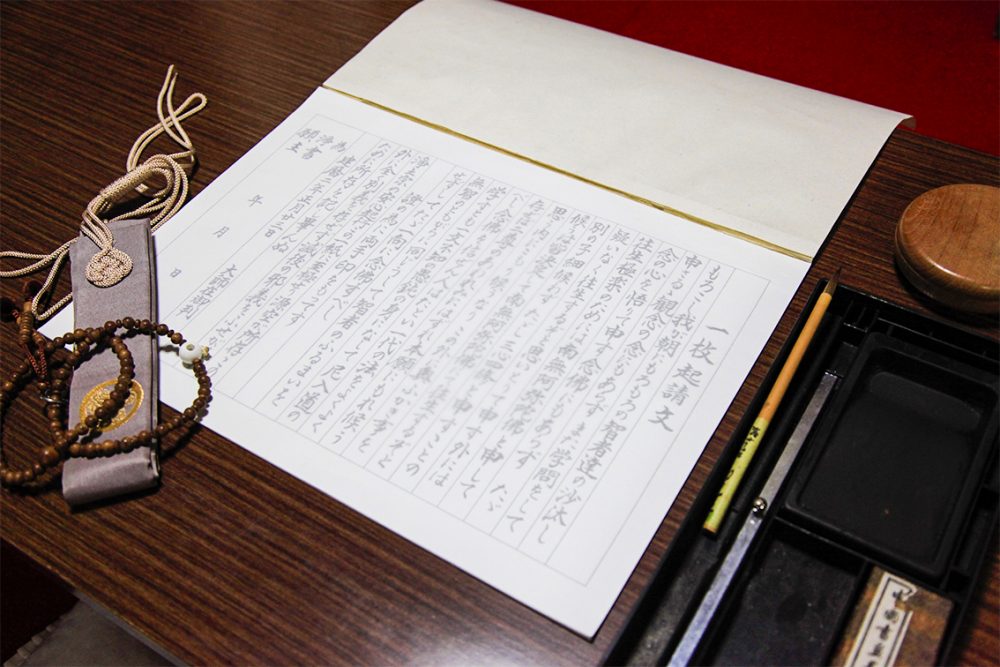 Opportunities to calm your mind through concentration on simple activities like these are few and far between in daily life.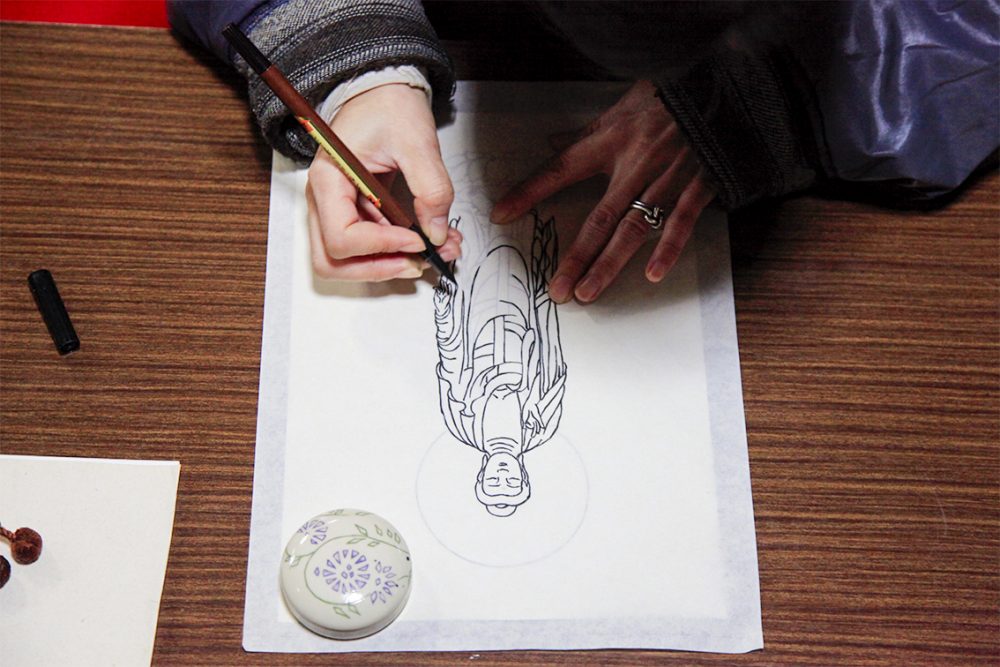 When you make your own trace of a Buddhist image, the image you make seems to take on a personality of its own, even though it is just a copy.
There is no specific right way to draw it, so you can start from whatever you like.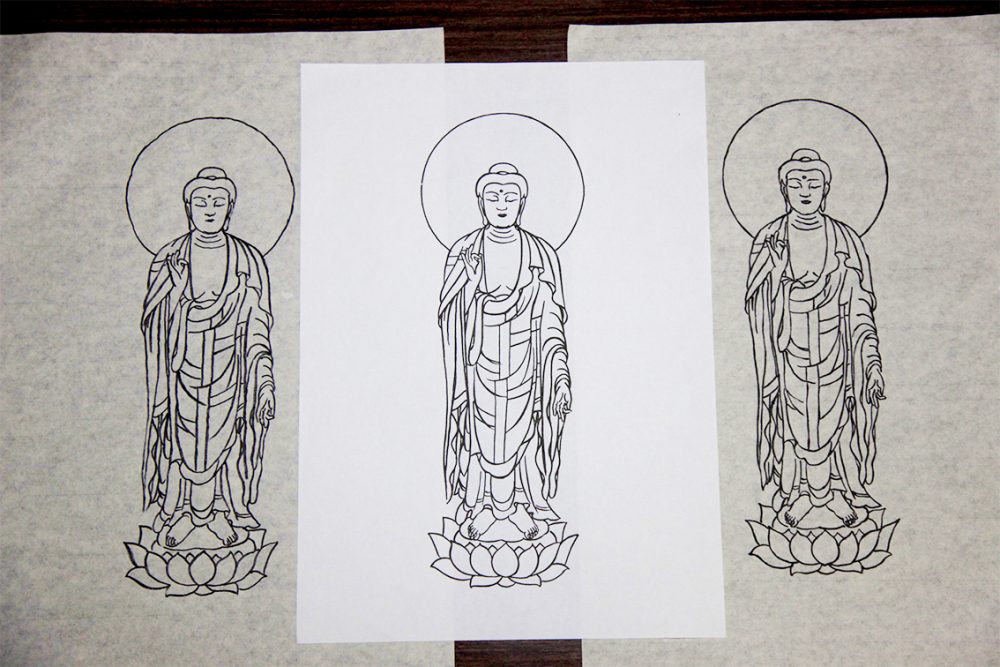 At this guesthouse, it is a good idea to sleep in without worrying about setting a morning alarm. It is also a good idea to wake up early in the morning and spend some quiet time at the morning service or do some sutra copying.
You can spend your time however you want, freewheeling and leisurely, listening to your own mood in the moment.
It is a guesthouse that should come to mind when you feel tired and want to go to someplace to relax.
B & B SEIKOKUJI is highly recommended for the following people:
Those who want to spend the time slowly and quietly by themselves or with a small group.
Those who want to have a base for enjoying Yoshino.
Those who want to get a sound night's sleep in preparation for the following day's activities.
Information:
Temple Lodging/B&B SEIKOKUJI
Address:           152, Minamikuzu, Yoshino-cho, Yoshino-gun, Nara 639-3435
TEL/FAX:          +81-746-36-6222
E-mail:              bandb.seikokuji@gmail.com
HP:                   https://nara-seikokuji.jimdofree.com
Access:
20 minutes by car from Kintetsu Yamato-kamiichi Station
30 minutes by car from Kintetsu Haibara Station
45 minutes from the Hari Interchange of Meihan National Highway
Fee:
1F Japanese room:        5,000 yen per person (tax included)
2F Western room:         6,000 yen per person (tax included)
* If reserved by 4 or more people, all rooms can be used. (5,000 yen per person, tax included)
Check-in: 15:00 to 21:00
Check out: 10:00
Amenities:
Shampoo, rinse, body soap, toothbrush set
(Hand towel, bath towel, and sleepwear are free of charge)
Facility:
○ Air conditioner           ○ Dryer                        ○ Refrigerator
○ Microwave oven        ○ Toaster         ○ Electric pot
○ Free Wi-Fi
○ Futon (Japanese room on 1F only) ○ Bed <semi-double> (Western room on 2F only)
○ Massage chair (Japanese room on 1F only)
Reservation:
https://nara-seikokuji.jimdofree.com/%E5%AE%BF%E6%B3%8A%E4%BA%88%E7%B4%84/
mat or mats?