The places you should go and the people who you should meet when you come to Yoshino.
Vol.1 is here!
"Kunisu Shokudo,*" A Beloved Restaurant Found in a Traditional-style Japanese Home in Kuzu
Vol.2 Daishisan-ji Temple / Priest Chimyo Otsuka
I think the usual image of the "countryside" is that of a place surrounded by nature with a good environment, if not a little inconvenient.. However, the Kamiichi area of Yoshino is a countryside location immersed in nature that also has convenient access to a train station, post office, and a bank within walking distance. Even a convenience store can be easily accessed here. For these reasons, I call Kamiichi the "urban city of the countryside."
In Kamiichi, there is a temple called "Daishisan-ji" located on a hillside that is only a short walk from the main street in the center of the district. The official name of Daishisan-ji Temple is actually "Daishisan Myoho-ji Temple." It was founded in the Nara era (710-794 CE) as a branch of Todai-ji Temple and Horaku-ji Temple at the request of Emperor Shomu.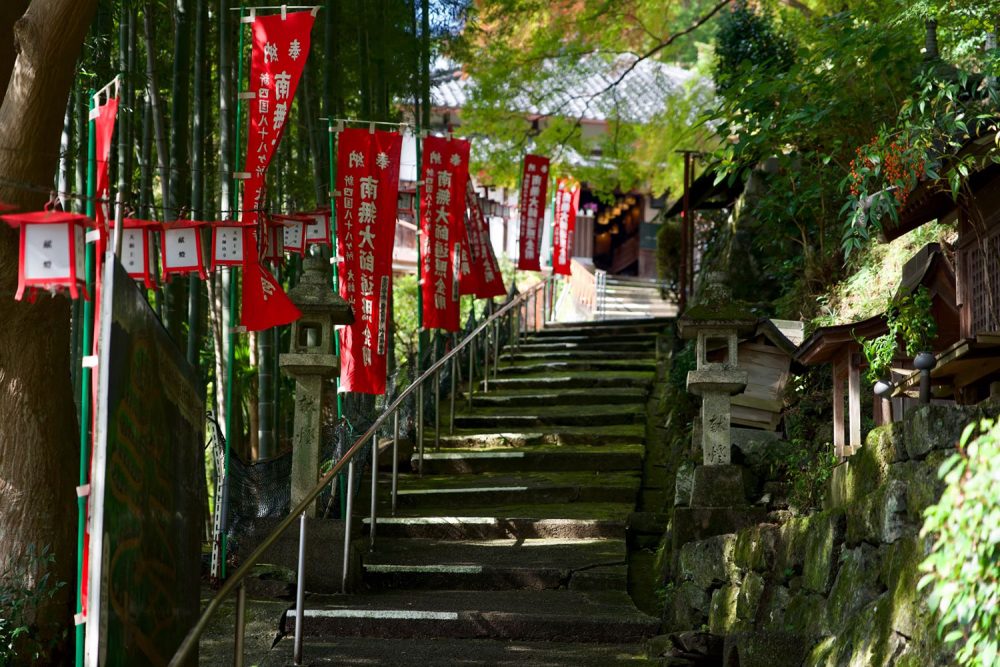 It is a very nice place with a panoramic view of Mt. Yoshino and the clear stream of the Yoshino River below. Of course, the town of Yoshino itself is a very pleasant place, but when I climb up to the grounds of Daishisan-ji Temple, I feel that the air is more refreshing.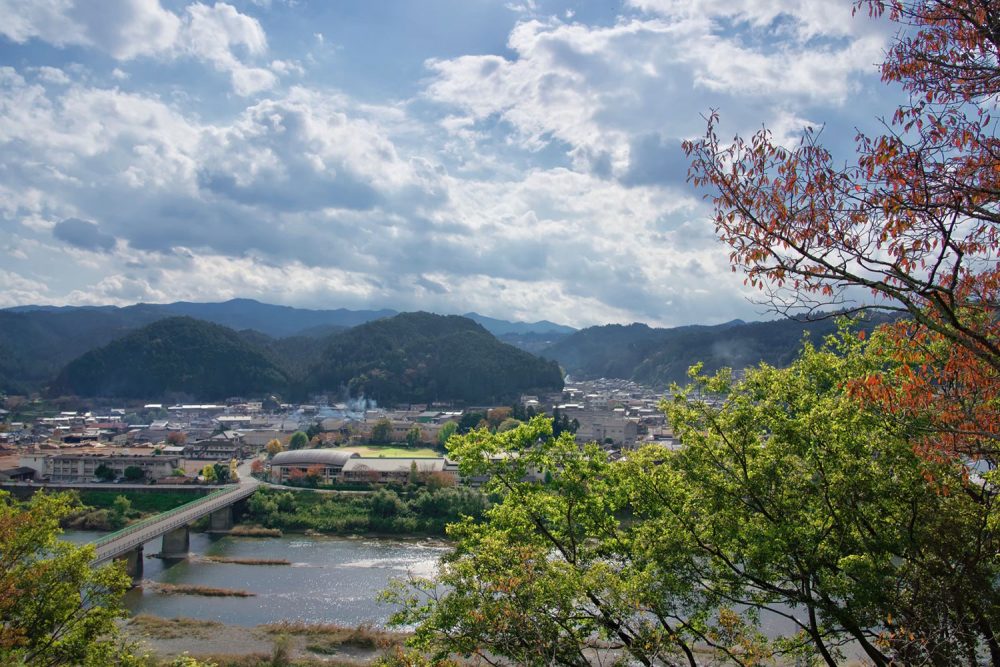 Mountains colored by cherry blossoms in spring.
The Yoshino River shining brightly in the summer sun.
The vivid crimson foliage of maple in the autumn.
The crisp clear air of winter and the fantastic snow-covered landscape.
You can feel the beautiful scenery that surrounds this place as it changes day by day.
Daishisan-ji Temple, which is located at the intersection of the old Ise and Kumano roads, was popular among pilgrims who practiced purification rituals in the Yoshino River during the Edo period while donning fundoshi (a traditional Japanese men's undergarment made from a length of cotton fabric). Fundoshi which are prayed over by priests are called "force fundoshi." This practice led to the idiomatic saying of "re-tighten one's fundoshi," which referred to pilgrims re-motivating themselves for the coming journey and training. The temple has been a place where people have gathered for a long time, and in recent years, most of the priests who have trained here succeeded in their careers after they moved to other temples. It is for this reason that Daishisan-ji Temple is known as a "temple of good luck." I am also one who was able to form a great new relationship through Daisan-ji Temple after moving to Yoshino.
Before I moved to Yoshino, I only visited temples for sightseeing or went to my family temple to pray over graves.I rarely had a chance to speak directly with a priest but since coming to Yoshino, the world of temples and priests has become familiar to me. Daishisan-ji Temple is a space for activities such as worshiping the ancestors, discussing about your life from time to time, and seeking advice regarding how to deal with daily hesitations and doubts.
When special events occur, neighbors gather and prepare for them together. There are also people who come to clean the temple grounds regularly, to chat, and for consultation about work and health related matters. It is impressive that everyone can easily visit the temple and that it is functioning as a place of community that can be relied upon.
The relationship between people and temples has become weak in big cities, but I believe that in the distant past they used to function as locations where people from all walks of life could meet and connect with each other.
The head priest, Mr. Otsuka, serves tea to people who make the climb up to the Daishisan-ji Temple and talks to everyone in a friendly manner. His religious discourses and stories are not confusing and heavy, but instead are light and mixed with laughter.
It's hard to imagine now, but Priest Otsuka was extremely shy through junior high school. When he proceeded to high school, he thought, "I want to change myself!" and started to talk to people with a little courage. From this experience he learned that good things happened when he acted courageously and therefore he still practices the same philosophy to this day. Continue to act with a little courage and accumulate life experience little by little; these are the important things to keep in mind.
The friendly and generous personality of Priest Otsuka combined with the refreshing atmosphere of Daishisan-ji Temple attracts people from all over Japan.
Daishisan-ji Temple is not a place for sightseeing but instead is referred to as a "prayer temple."
A "prayer temple" is a temple where prayers are conducted for everyone's wishes. At Daishisan-ji Temple, the goma fire ritual (one of the methods of esoteric Buddhism) is conducted for the purpose of praying for the fulfillment of wishes.
The goma fire ritual is held on the 11th day of every month.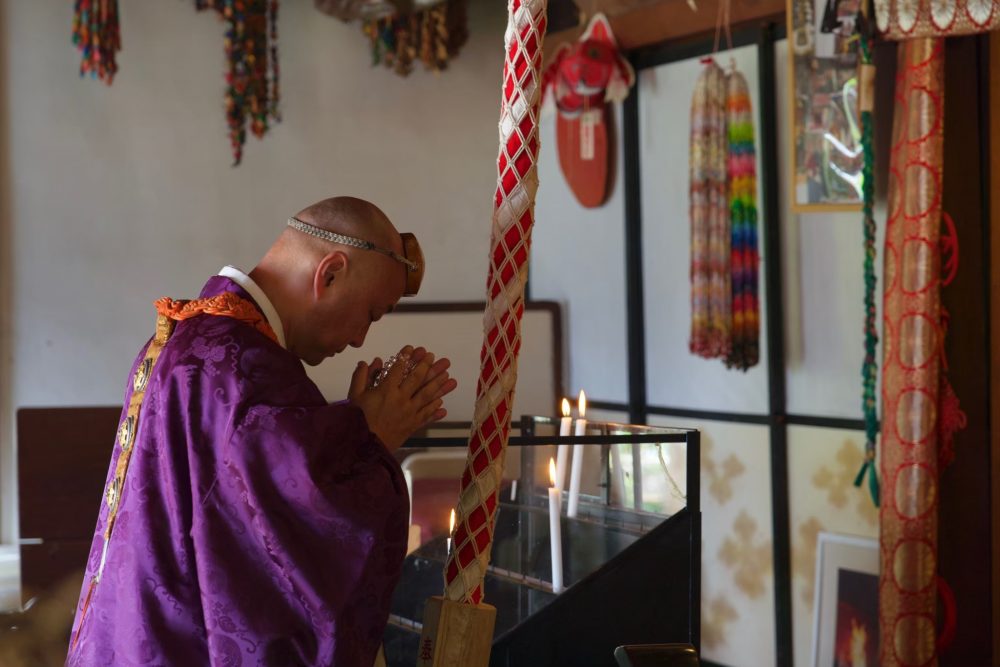 "Praying for someone to be better and happy. Wishing that I want to be like this or wishing things would be like that. Thoughts are also prayers."
When I asked Priest Otsuka, "What is prayer?" he gave me the answer above.
"Everyone spends time praying every day, it's just that they are not not aware of it. Praying is the same as thinking. Wishing for both good and bad things is prayer."
Priest Otsuka says that there are both "strong or weak" and "long or short" ways of making wishes. When you want to change something, it is natural that it will affect the present if you pray strongly and longer. However, people have trouble concentrating so they need places and objects to use for prayer. The places and objects are temples, shrines, and Buddhas, with religion serving to position the direction of prayer. Religion is a means of amplifying good wishes. Depending on the person, the means of prayer can be linked to a philosophy or a faith.
Indeed, I think it is difficult to keep wishing for or thinking about someone's happiness every day without using an object. If something is in front of you when you pray, it is easy to put hands together and focus on it. I think that it is important to not lose sight of being mindful of our thoughts in our daily lives, even in difficult times.
"Prayer goes beyond time and space and continues to influence people. This is how I feel as someone who has been praying for a long time. The results of ancestors' prayers and wishes are happening now. People have been seeing these results but they don't realize it," says Priest Otsuka.
I used to think that prayer is something like a special ritual, but that is not the case. Instead, it is something that everyone does on a usual basis. The only difference is whether the wish is strong or weak and whether you can continue wishing or not.
Recalling a passage that I had once read in a book that said "life is a prayer," I became convinced by the words of Priest Otsuka. Whether we are conscious of it or not, we pray every day as we live.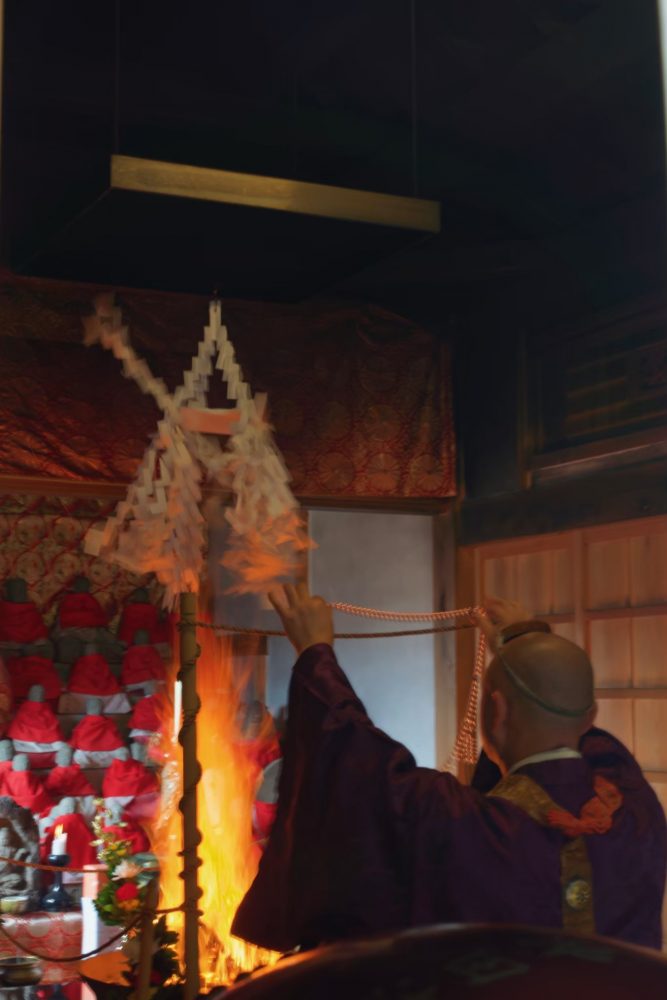 On April 20 of every year, a special goma ritual is held in which 8,000 pieces of gomaki firewood are fed to the flames. It is said that Buddha went back and forth between this world and another 8,000 times to save people, so it became a practice to burn 8,000 pieces of gomaki firewood in commemoration of this feat.
To prepare for this event, priests avoid ingesting salt, grains, and tea, and have two meals of water-boiled vegetables a day starting on April 11th. They do this to keep their body and mind clean and pure, and devoted to the practice. Then they fast for 7 days! Fasting is becoming popular these days, but priests fast for an entire WEEK! The idea of doing this is completely unimaginable for me as I am someone who becomes sullen when I get a little hungry and can't even fast for a single day.
While they fast, they also recite a mantra (spell) 100,000 times. Can you imagine? Have you ever counted to such a number? Endlessly, they just pray and recite the mantra. On the final day of April 20th, they avoid drinking water and pray for peace, disaster recovery, and the wish fulfillment of everyone in the world while burning 11,000 pieces of gomaki firewood by hand in one day.
I bet some people are thinking "wait, wasn't it 8,000 pieces?" to themselves right about now. The actual instructions for this practice say to "burn 8,000 pieces of gomaki firewood," but Priest Otsuka burns 3,000 more than that. I asked him why he increased the number, as 8,000 is already incredible. He answered, "I think things get better if I worship longer. I was curious about what might change if I do more than others did".
Priest Otsuka is aiming for a high and steep road. What kind of scenery does he see from such a place? Priest Otsuka prays every day that everyone's wishes will be fulfilled.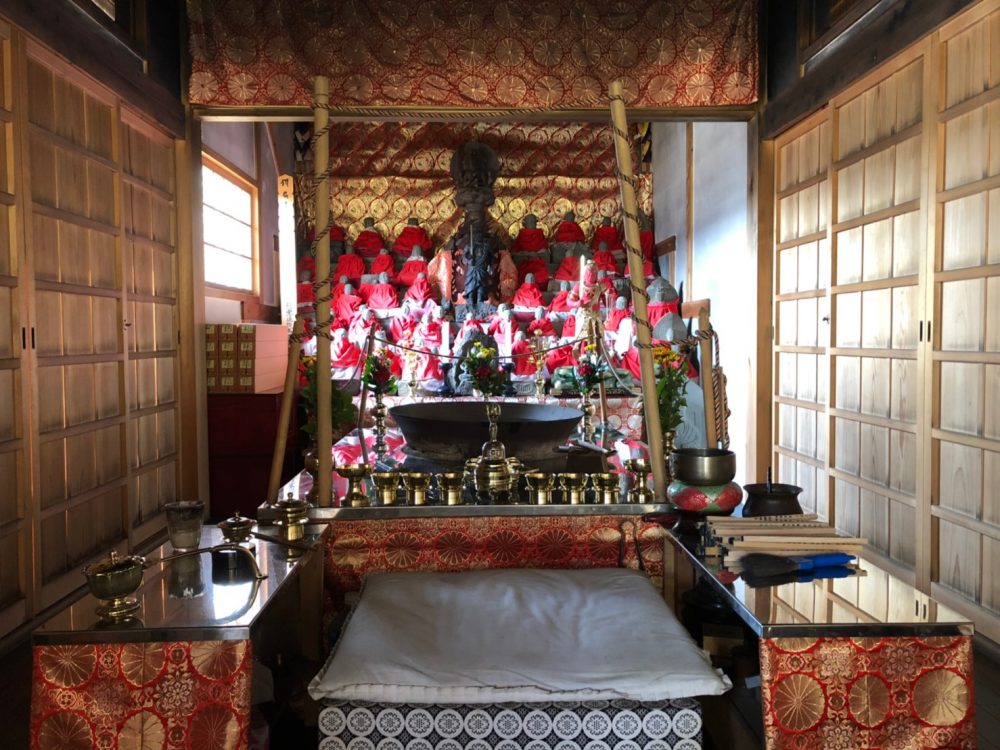 Why don't you make the climb up to Daisan-ji Temple and pray for both others and yourself?
Daishisan-ji Temple
Address: 2103 Kamiichi, Yoshino-cho, Yoshino-gun, Nara 639-3111
TEL: +81- 746-32-2601
Facebook: https://ja-jp.facebook.com/daishiyama/
Parking: Park on the riverside of the Yoshino River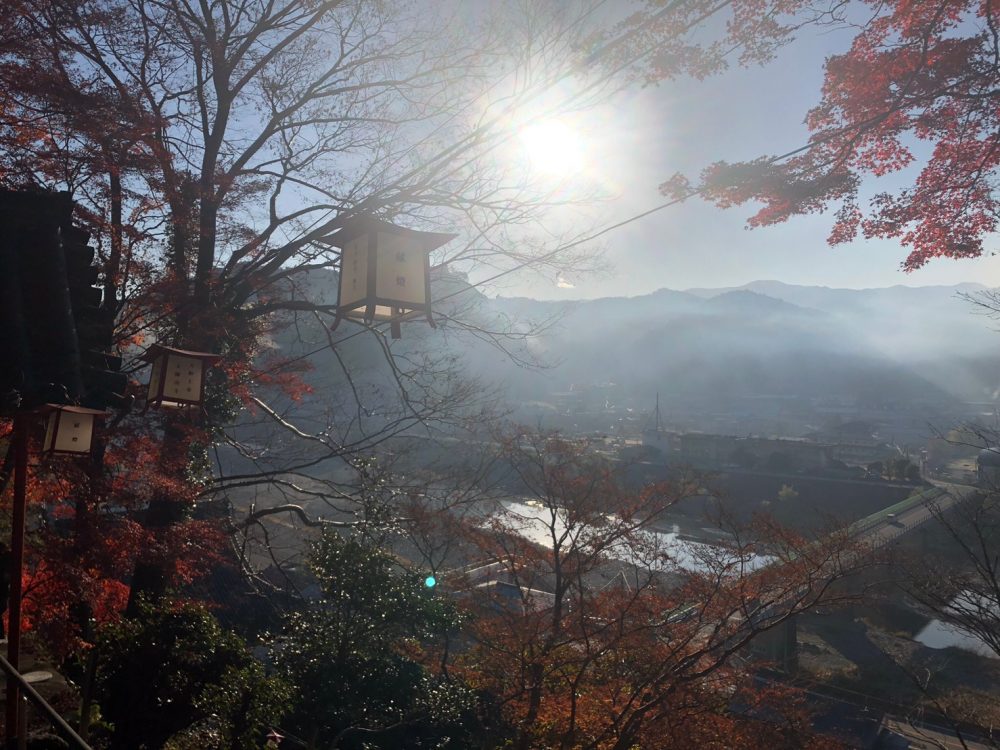 Regular events
• Every Tuesday: Prayer
• 11th of every month 11:00~: Goma fire prayer and religious discourse session
• 21th of every month 10:00~: Memorial service for ancestors
Special prayer services are available every day (reservation required).
Prayer services include rituals for safe childbirth, naming, and so on.